Golf photography is unlike any other sport. There are so many facets to it – the style, emotion, scenery – it's fascinating, yet overwhelming. A golf photo has versatility. For instance, there are golf photos appropriate for the guest room bathroom, then there are photos for the living room and if daring enough, the dining room. Regardless of style or taste, each photo has a place in a golfer's home. This post shares 7 golf photos and where they could go in your house.
Bobby Jones, 18th hole at St. Andrews: "Carried Like a King"
In 1930, the year Bobby Jones won the Grand Slam, the British Amateur was held at St. Andrews. Below is a picture of Bobby Jone being hoisted by the crowd as he holds up his famous putter, Calamity Jane. Bobby became such a crowd and city favorite, in 1958, he was awarded with the Freedom of St. Andrews. The only other American bestowed with such honor was Benjamin Franklin. Watch his acceptance speech here.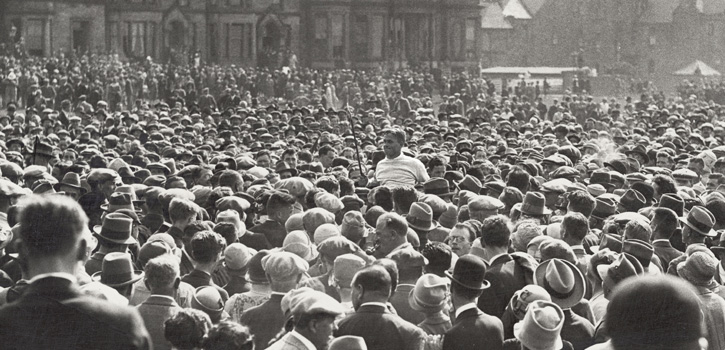 Place in the house for "Carried Like a King:" – The Smoking Room. Continue reading "7 Golf Photos You Should Put in Your Home"