The Ryder Cup: it's brilliant, it's patriotic, it's a rare moment of bonding that the game rarely shows. For one week, the world's best from the U.S and Europe team up and compete in a dazzling biennial affair. Hosted this year in the U.S. at Medinah Country Club, outside of Chicago, the golf world will be watching as Europe tries to defend the title and keep the cup overseas. Below are 5 videos every golfer should watch before the first stroke is struck. Each video has been selected to emphasize the emotion, patriotism, and strategy all intertwined into a tournament unlike any other: The Ryder Cup.
Context behind the Ryder Cup:
Before 1985, the U.S. had dominated the Ryder Cup only losing three times since it's inception in 1927. However, in 1985 the tides began to turn with the help of young, charismatic golfers like Seve Ballesteros, and the competition has never been same since. Below is a chart showing which teams won, by how much, and who lead the team to victory and defeat.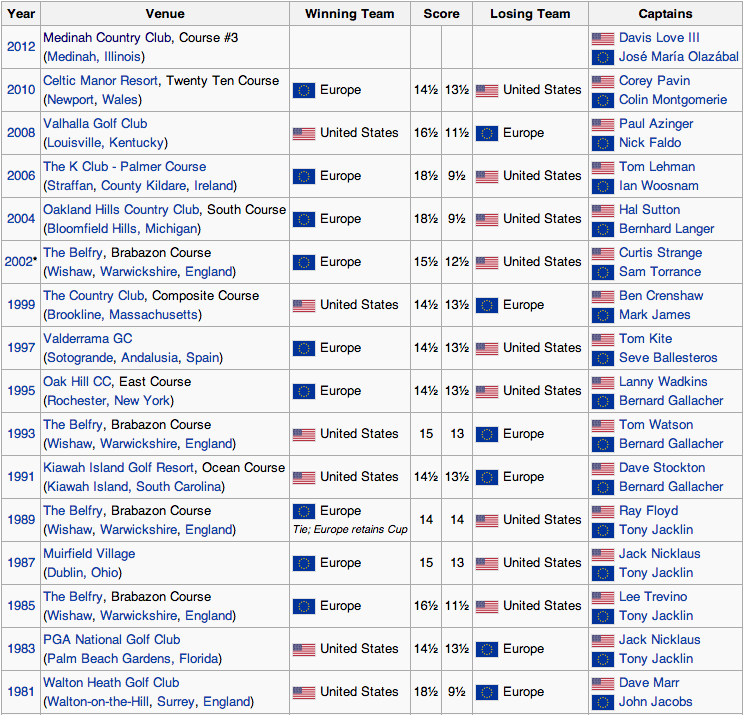 Continue reading "5 Ryder Cup Highlights To Watch Before Medinah in 2012"