There is a lost art form within the game of golf. An art that produces an experience because of golf's rare mix of mental, social, and physical skills required — traditionally, this is called an exhibition match.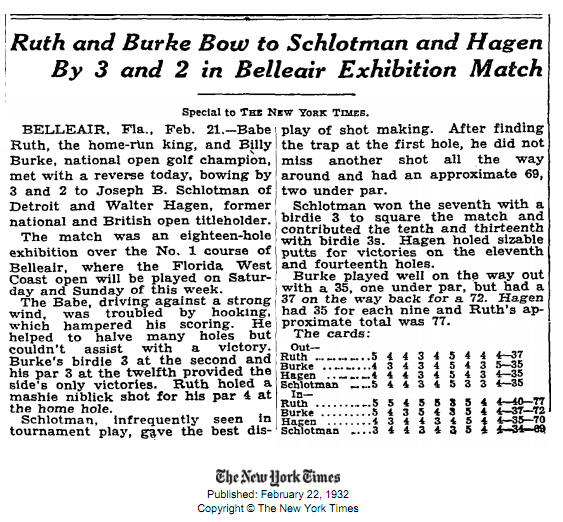 A Very Brief History
Before there was a professional golf tour, many of the game's greatest players earned money by competing in exhibition matches against each other. There was no better 'exhibitor' than Walter Hagen. A man with a larger than life personality and a grandiose lifestyle to match it. To draw the widest audience as possible, celebrities of that time would also join in on the competition.
The Haig and the Babe Square Off
Walter Hagen was friends with many of the sport's greats at the time including Babe Ruth. Their matches were documented in numerous periodicals including the New York Times, even though this one was played in Florida! Below is the 1932 article from the Times that reported the match. One can only imagine the caliber of shots performed and the electricity generated from these legends!
The Modern Day Exhibition Match
As for the modern day exhibition match, I suggest all golfers find a group of authentic golfing companions and play an exhibition match similar to what the greats used to do — build it up, even write about it — the anticipation will enhance the experience and the memories. Even if you have no modern day celebrities, coming down the drive it will be hard not to think what the Hagen must of felt like when making an entrance before an exhibition match.
The Exhibition Match Moving Forward
The game would reap significant benefits if the exhibition match was brought back to courses. The closest we've had is the Shell's Wonderful World of Golf and those were splendid! Now add a mix of celebrity and an intimate crowd and watch as new fans fall in love with the sport.