Murray Irwin "Moe" Norman was a legend. He was arguably one of the best ball strikers ever.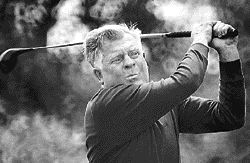 His accuracy and ability to hit shot after shot perfectly straight gave him the nickname "Pipeline Moe". But it is unfortunate that many don't even have heard of him, probably because of a short career. He turned professional in 1957 but played just 27 PGA tour before returning to play in Canada after a bitter experience with the officials. But nothing can take away the serious talent he possessed and we'll never know what he might have achieved if he had a longer career.
He won 55 Canadian Tour events, had 33 course records, and 17 hole-in-one's. Yes you read that right – 17 hole-in-one's! 59 is considered to be the magic score in golf – well, he did that too, not once but thrice!
In January 1995, Titleist decided to pay Moe $5,000 per month for nothing more than his unique contribution to the game of golf.  Moe passed away September 4, 2004 at the age of 74.
Watch this below video (or Click here) on Moe Norman. Truly inspirational!