Caddies play a pivotal role in a player's performance. The great Bobby Jones once said "If I needed advice from my caddie, he'd be hitting the shots and I'd be carrying the bag". But yes, mistakes do happen and caddies are no exceptions to that. Such was the case in Ian Woosnam and his caddie Myles Byrne, our #2 on the list of the Costliest Rulings in Golf series. If you missed our other entry in this series click here.
It was a wonderful start for Ian Woosnam at the 2001 British Open – against all expectations he was in contention to win his first open at Royal Lytham & St. Anne's. Tied for the lead with three others, he marched with a lot more confidence into his final 18. He started the round with a birdie (missed a hole-in-hole by a whisker) at the opening par 3.
The tale then had a sudden twist as something dramatic happened. His caddie, Myles Byrne, came up to him and said, "You're going to go ballistic" – "We've got two drivers in the bag" as he pointed out the extra driver. That meant Woosnam was carrying 15 clubs, which indeed is a two-stroke penalty.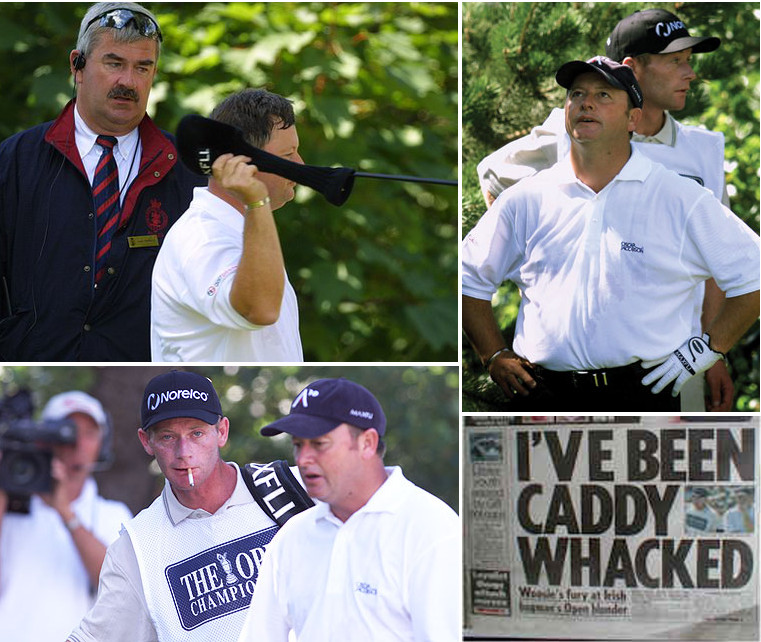 Woosnam responded by throwing the extra club to the ground in disappointment. 'I give you one job to do and this is what happens,' he said. As a result of the penalty, Woosnam finished with 71 – four shots behind the winner David Duval, tied for 3rd place.
Here is what rule of Golf (4-4) says,
Maximum Of Fourteen Clubs

The player must not start a stipulated round with more than fourteen clubs. He is limited to the clubs thus selected for that round, except that if he started with fewer than fourteen clubs, he may add any number, provided his total number does not exceed fourteen.
It costed Ian Woosnam 218,333 pounds and a potential Ryder Cup spot. On the other hand, caddie Byrne lost anywhere from 15 to 20 thousand pounds in caddy earnings.
Below is the final leaderboard of the 2001 Open: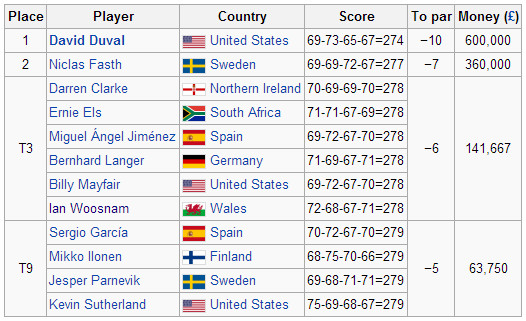 Woosnam surprisingly decided not to fire him stating: "It is the biggest mistake he will make in his life. He won't do it again. He's a good caddie. I am not going to sack him. He's a good lad."
Ironically, Woosnam did fire his caddie two weeks later when, after a night drinking on the town, Byrne slept in and failed to turn up to tee-time.
Byrne was last seen lugging bricks, having become a construction worker on a building site in Bray, Ireland, according to writers who cover the European Tour. And Ian Woosnam never came close to the leaderboard again. They never spoke after the split but we hear Woosnam checks with Byrne's brothers, Brian and Dermot, both European Tour caddies, about him.
Watch this below video (or click here) that captures the moments in disappointment of Ian Woosnam.