We're glad to welcome a new guest blogger at the Scratch Pad! The Itinerant Golfer profiles Steve's quest to play all of the top 100 golf courses in America. You'll get a chance to see a round in action, along with great photos of the holes on the course. We're glad to have him with us, and will be sharing some of his best posts with you.

Whistling Straits
Location: Haven, WI
Architect: Pete Dye
Year Constructed: 1998
Played: June 11, 2009
I wasn't quite sure what to expect as I headed to Wisconsin to play Whistling Straits. Despite its high ranking of #22 on the Top 100 list, I wasn't overly excited to play it. From what I could tell about the course from my research on the internet and from watching events played there on TV it was probably not going to be my kind of course. I was hoping to be surprised.
Once I got outside of Milwaukee I was in rural Wisconsin and was thankful for my trusty GPS unit. Eventually I saw the Whistling Straits sign and turned into the driveway. As I wound my way around I was very pleasantly surprised to see that there was no colossal clubhouse or hotel. Instead it was just a modest little clubhouse built to look like an Irish Cottage. Whistling Straits Golf Course was designed to have the feel of an authentic Irish golf club. I'm feeling better about this already. The photo below (which I did not take) shows a great view of the clubhouse.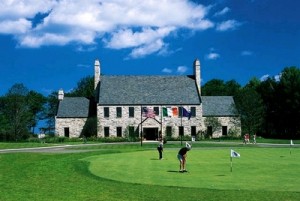 Herb Kohler of Kohler faucet fame built Whistling Straits. Kohler's corporate HQ are just a driver and pitching wedge away from Whistling Straits. The American Club was actually not built by Herb Kohler, it was actually used by the Kohler Company to house the immigrant workers at the factory in the early years of the company, it was then renovated and turned into what is now a Five Diamond Resort. In addition to serving recreational golfers like me the course has also hosted events for both the PGA and USGA. The first major event to be held at the course was the PGA Championship in 2004 Continue reading "Top 100 Courses: #17 Whistling Straits"