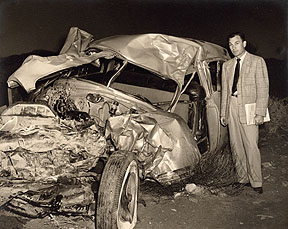 One of golf's greatest feats is the comeback of Ben Hogan. After being struck by a Greyhound bus, doctors predicted Hogan would never walk again. His legs were crushed at impact and a main reason he survived was his selfless act to protect his wife by throwing himself on her lap right before impact.
Hogan was always someone who beat the odds: the odds of him making it to the Tour, of overcoming his father's suicide, and battling back from his car crash.
That summer Monday in 1950 is stated best by the NY Times: Yesterday his challenge to the disbelievers was on the line.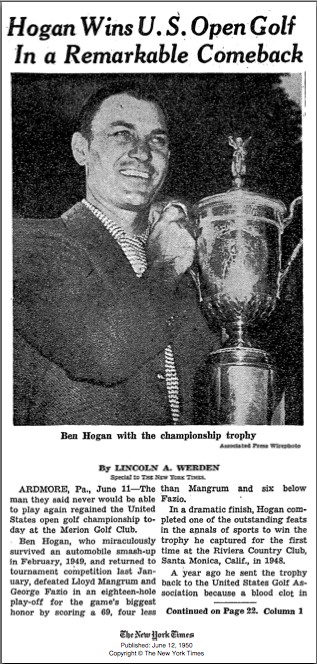 What escapes the average golfer is that Hogan had a 1 stroke lead over Lloyd Mangrum and a three stroke lead over Tom Fazio; however on the sixteenth hole, Mangrum incurred a two stroke penalty which gave Hogan a three stroke lead on both competitors with two holes to play. Hogan dropped a two tier putt for a birdie two on the long par-3 seventeenth.
The New York Times article ends the story by referring to the nickname Ben had growing up:
Then the bug alighted on Mangrum's ball at the sixteenth, and the penalty for handling the ball sealed the victory for Little Ben.
Below is a great interview with Hogan discussing not only his comeback, but also his mental approach. A great gem: