In the history of the sport, no style or position of putting has been left untried. Perhaps the only items left are the limits of technology. The purpose of this post is to instruct you how to putt like a surgeon. Not saying all surgeons are great putters, but most have a steady hands.
"Putting is like wisdom. Partly a natural gift and partly the accumulation of experience." – Arnold Palmer
Regardless of the technology, techniques, or form, putting is a highly individual art form. This post won't claim one style of putting is superior than another. This post hopes to educate you on the styles, tips, and best practices that have yielded the highest results and then let you decide on how to putt best for you. We've already share how to hold the putter, but this one goes deeper.
For example, let's analyze some of the best putters in our sport's history. Below are great images of how to putt like the best putters. Notice each one has their unique style they've cultivated from continual trial and error.
"Still even in putting there is a right and a wrong way. Take the test of experience and you will find that in the long run the man who puts in the approved method wins the day." – Henry James Whigham
Jack Nicklaus Putting
Jack Nicklaus had a very distinguishable style. Hunched over, knees bent, hands pressed forward, and an open stance characterized his style. If you're wondering if changed over the years, take a look below.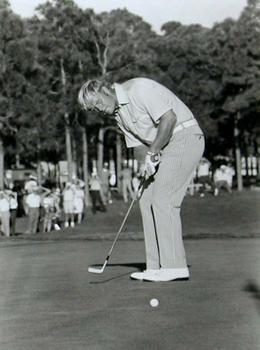 Now take a look at his stance only a few years ago: