The Golf Club
Location: New Albany, OH
Architect: Pete Dye
Year Constructed: 1967
Played: June 21, 2009
If I were to start my own golf club today I would hope it came out looking exactly like The Golf Club in New Albany, OH. The Golf Club was founded in 1967 by Fred Jones with the simple goal of having a private club where he and his friends could play golf and enjoy themselves. Mr. Jones managed to piece together a 400 acre parcel of land and then took a chance on a virtually unknown architect by the name of Pete Dye to build his golf course. When the project was finished a world class golf club was left as a monument to their partnership.
Thanks to my fellow Top 100 golfer Larry Berle. I'm playing The Golf Club today with his friend Bob. I cut through the quaint little pro shop and over to the main clubhouse building where the dining and locker rooms are located. When I stepped through the door to the locker room I saw what might be my favorite locker room ever. There were tables and chairs in a bar area, leather couches for lounging, card tables, stacks of books and magazines on golf, exposed wooden beams, a huge fireplace and rows of nicely aged dark wooden lockers.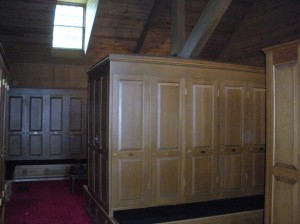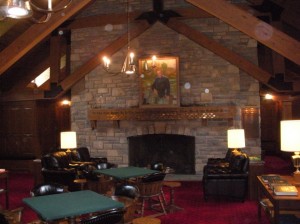 Once we were sufficiently warmed up we went to the putting green to wait our turn. The practice green here is unique in that it is a shared green with the 18th hole. This is something I've not ever seen before. As there are no tee times at The Golf Club so members just hang around on the putting green until its their turn to go off. The membership is VERY small at 150 so even at its busiest times there aren't many golfers on the course.
We played from the white tees which were 6632 yards. The first hole pictured below is a 349 yard par 4 dogleg right. The smart player will avoid the bunker on the right. Its very much in play for a sliced shot and the grass in the middle of the bunker is very long and very penal . . . trust me on that. The 2nd hole is a long par 4 at 444 yards with a blind tee shot.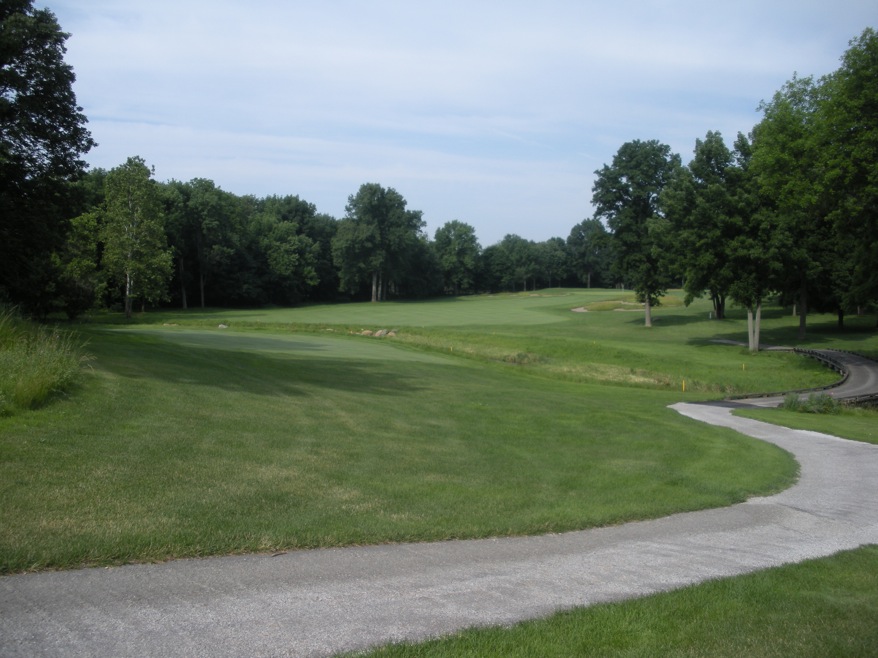 The 3rd hole pictured below is a fantastic par 3 that plays 185 yards. Shots that fall short will find the water and those that are long will get in the nasty bunkers behind the green. Note that Pete Dye was using his signature railroad ties even this early in his career. The 4th hole is a 518 yard par 5. In the photo below you can see that the fairway throws everything to the right so the line is to play down the left hand side as close to the tree as possible.