PGA PLAYERS GRAPPLE WITH SOCIAL INJUSTICE
World's No. 6 golfer Brooks Koepka at the 3M Open on the death of George Floyd: "Obviously, it was tragic," Koepka said. "It's pathetic what happened. To see somebody's life to go and then you watch it multiple, multiple times, it's tough. I get chills right now just even thinking about it. What happened is uncalled for."
BLAINE, MINN–The PGA tour returns to the 3M Open, which marks the first major sporting event held in the Twin Cities since George Floyd's death in Minneapolis police custody in May.  Floyd's death prompted widespread protest across the country and a reckoning over systematic racism in the United States as more professional sporting leagues and athletes embraced protests for racial justice.  Hampered by a balky knee several months after undergoing a stem cell treatment to repair a torn patella tendon and sitting in 157th place on the Fed Ex Cup Standings, Koepka must make up ground quickly if he wants to finish in the Top 125 and qualify for the Playoffs, which features a total purse of $75M.  His quest to climb back into the playoff picture begins this week in Minnesota.
On Tuesday, Koepka in a conference call with the media previewing the 3M Open, did not shy away from the matter of social injustice and unrest in America.  While many athletes of color are guided by themes and life experiences that have affected them personally or those around them directly, the surge of white athletes starting to voice their opinions on these issues is particularly refreshing and is reflective of how much change is occurring in real time.  It was especially interesting to hear a golfer as accomplished as 4-Time Major champion Brooks Koepka express his opinion with such conviction.
The PGA tour provides unfiltered access to their golfers for individual media sessions with a great deal of frequency.  The players are for the most part, very expressive and, in my opinion, more transparent than most professional athletes.  I would never have imagined that a buttoned up outfit like the PGA would want to weigh-in on such controversial issues in a million years, however.  I naively expected something  of a similar approach taken by the ultra-conservative NFL owners, who have chosen to remain silent throughout a spring and summer of civil protests and continued clashes with police.  To my surprise, the PGA has been particularly refreshing, flexible, and strong about its stance.  The tour held a moment of silence for Floyd at each round of June's Charles Schwab Challenge, as it returned from hiatus.
Koepka is just the latest on the PGA tour to address his death, too.  Harold Varner III released a lengthy letter on social media in June, calling his death a "senseless killing a murder — and, to me, it was evil incarnate."
Tiger Woods followed suit shortly after, too, saying the "shocking tragedy clearly crossed" a line.  Woods and Varner are the only two African American golfers inside the Top 200 in the Official World Golf Rankings.
A VOICE FOR CHANGE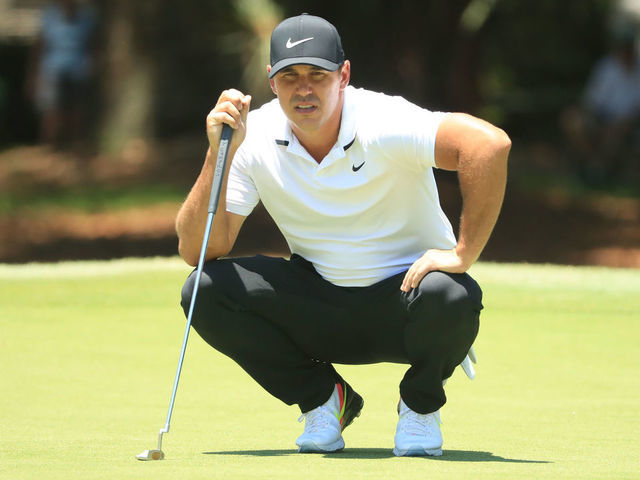 "Racism is a big issue, and I think we're on our way now. People are becoming more vocal. Everyone is becoming more vocal and I think it's very important, and it's definitely showing."
Voicing an opinion on this as well as other social justice issues is difficult for many athletes and there is no requirement for them to do so.  The First Amendment goes both ways in the spirit of the freedom of expression it's meant to protect.  It has been demonstrated that a non-comment from a person of prominence can be just as impactful.  In recent years, public figures have begun to recognize that a divisive, disingenuous, or even honest opinion could attribute the wrath of social media under this very delicate climate, regardless of what they decide to say or do.  Our cultural sensitivities are very much frayed to say the least.  Just  20 years into a young century that has been loaded with social tumult, wild wage inequities, while also moving at light speed with regards to sweeping scientific and technological developments, America finds herself leaving more and more people behind.  Every politically charged subject can force a revelation of character and if answered poorly, may lead to a stigmatization.
Over the years, it was in an athletes best interest to say something politically correct as opposed to testing the toxic waters of such subjects when pushed by members of the media.  Usually settling for something polished and written by someone that doesn't bear their name or share in their convictions.  This generation appears to be different.  30 year old Koepka who is a Palm Beach, Florida native, is a child of the digital age.  America now has a generation that can seek their own information with regards to such issues.  With the emergence of commentary in social media, you can get a more raw understanding of certain issues which may in turn, motivate one to seek more information.  This has led to more nuanced answers from world athletes and it would appear that the PGA players are marching along those same lines.
The act that ended the life of George Floyd was broadcast ad nauseum over television airwaves, laptops and cell phones all around the world sparking protests in Europe and as far as New Zealand.  Koepka felt compelled to share his thoughts and revealed in his own words that with such events, there shouldn't be much that separates us.  Sometimes the difference of opinion can be as simple as what's "right" or what's "wrong."  In the murder of George Floyd, Koepka simply saw injustice and with his added voice hopes to help advance the conversation further.
The next phase of development for the PGA tour will be to find a means to be more inclusionary of people of color at their executive branch level while also fostering programs that allow for golf to be affordable for young aspirants in urban and suburban markets to encourage that a future generation of minorities and women participate in what is truly a very universal and fun game.
THE FIGHT FOR SOCIAL JUSTICE CONTINUES…
so·cial jus·tice (noun):  justice in terms of the distribution of wealth, opportunities, and privileges within a society.-"individuality gives way to the struggle for social justice"
Literature:
Suggested Reading on Social Justice in the U.S.
On The Ground:
Sonic Youth: Young, Bold, and Woke in America
Historical Notes and Figures:
White Southerners Who Fought U.S. Segregation
Social Justice in a Time of War: U.S. in the 2000's