CRASHING TIGER
Thursday at Muirfield: Woods barely survives the cut posting a very shaky round of 76. The field ended up plummeting towards his overall (+3),  preserving his consecutive streak of 18 straight cuts made at the Memorial
DUBLIN, OH –Tiger Woods gutted through the front-end Back 9 and scarcely managed to keep his cut streak alive (18) at the Memorial, salvaging two Birdies, while securing a Par on his last 3 holes of play, but it may have cost him.  We touched on his fragility in yesterday's blog post and now it appears that proved to be all too fortuitous.  Woods' body began to betray him on the front-end 13th where he appeared to tweak his already troublesome back off the tee.  He got on green in 2, but missed a 3 foot Par putt, finishing with a 3-putt Bogey.  The malaise continued onto the 560 yard Par 5, 15th.  A hole that favors long hitters, Woods was aiming to hit an ideal shot and Drive the ball towards the crest off the hill which would've allowed him to get home in 2, but this was far from the ideal shot.  Instead, Woods winced visibly off the tee and was unable to generate the proper torque necessary and only managed to hit the green in 4 resulting in his two putting into Bogey.
After a bogey at 17, Woods hit the skids and double bogeyed on no. 10 to open the back end 9 and followed that up with a bogey on the following hole.  Another bogey at 6, which left him at (+5) where his streak stood in serious jeopardy.  Although the driver was the catalyst, the strain mainly came from the exorbitant toll  he was putting on his back through an  inordinate amount of unanticipated putting.   Woods was clearly in some discomfort throughout most of the round.  He looked mechanical when retrieving balls out of the cup and looked most uncomfortable while walking the Fairways.
With all of that taken into account, Woods' legendary indomitable will and mental toughness is what carried him through a very difficult round.  We will have to monitor Tiger closely on moving day, to better assess the full extent of his health and also see whether or not he can finish the weekend and how all of this affects his participation in the upcoming tournaments leading up to the PGA Championship at TPC Harding Park in August.
Although Day 2 was tough on Tiger, Woods did provide us with this highlight:
https://twitter.com/i/status/1284168337753284609
WHO'S THE BOSS?
Tony Finau continued his smooth performance, completing a clean round of 68, finishing (-3) for the day as he maintained his lead at (-9) overall
After missing the cut at the 2019 Memorial, budding star and late bloomer Tony Finau is here to stay in 2020 as well as this weekend in Ohio.  Although Finau started off nervy, with Bogeys on the front 9, 10th and 12th holes, he settled into his steady work landing on the greens and added some balanced  back 9 putting to keep himself tied for the lead thus far. (Checkout Tony's feature after Round 1 at the Memorial on MyScorecard)
Watch Finau sink a Birdie on no. 7
THE CONTENDER
Ryan Palmer has been battling a cranky putter throughout the young tour season, but seems to have righted the ship.  Palmer sits tied for a share of the lead at the Memorial following his Round 2 67 (-9 overall)
The Amarillo, TX native had the best round of the day, shrugging off a Bogey on the Par 4  2nd, as he proceeded a steady application of clean tee shots and a balanced putting game.  Palmer rarely found himself in any trouble in Round 2 notching in a cool score of 68 leaving him at  (-4) for the afternoon .  He has played the best thus far two days in  and is poised to make a move on Saturday.
DeCHAMBEAU'S EARLY EXIT
Swinging for the Fences:  DeChambeau called for a "Second Ruling" on his ambitious tee shot that was sent careening towards the fence.  Upon further review he was forced to drop the shot.  
Above we mentioned the struggles Tiger Woods had on the 15th, but that paled in comparison to Bryson DeChambeau's (+5) adventurous take on the hole that ultimately led to his first cut and non-top 10 finish in his last 7 appearances.  DeChambeau torpedoed his way towards a 10 shot epic, which featured a fence, two judges, a splash in the drink and an awkward debate involving some vague Phil Mickelson shot at "Bay Hill."  While watching the event live, I couldn't help but chuckle at DeChambeau's theatrics.  He reminds me a bit of former American tennis player John McEnroe, who always seemed to get the most animated when the lights and cameras were on him.  Checkout Bryson DeChambeau's conversation with the "1st Judge":
Bryson: "You are kidding me? Can I get a second ruling please?"

*Rules official turns away and smirks*pic.twitter.com/ZnaNk175ca

— Josh Berhow (@Josh_Berhow) July 17, 2020
Notable Golfers in Contention: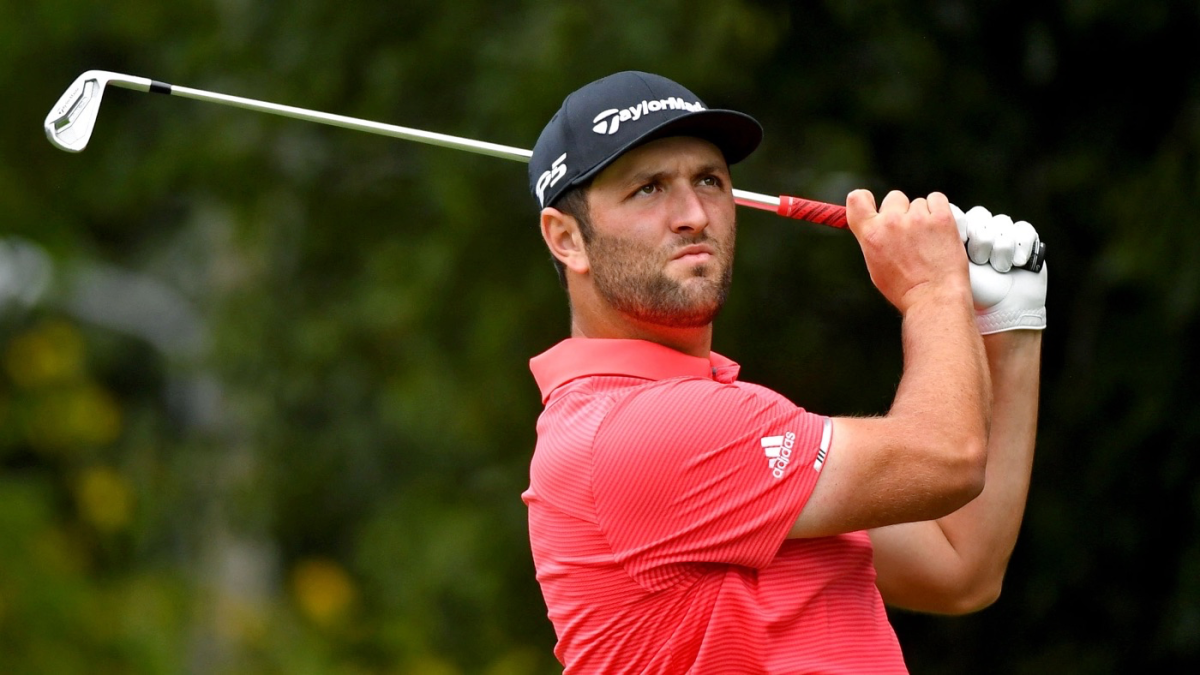 Clubhouse Favorite: Jon Rahm (ESP) 
Jon Rahm (-8)/Gary Woodland (-6)/Jordan Speith (-4)/Jim Furyk (-4)/Rory MclLroy (-2)
NEXT: MOVING DAY @the MEMORIAL