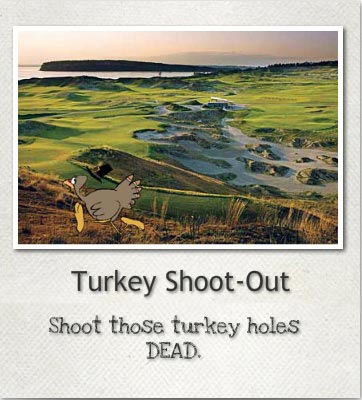 We're glad to bring you another tournament created by the West Puget Sound Men's Club, a club that uses MyScorecard to help make their rounds more enjoyable and fun. We appreciate their sharing their format with us.
In the turkey shoot out, each player will be allowed to "shoot" FOUR turkey holes as they occur on the course. Dead turkeys are replaced by a par score. Fire your shotgun shells early or save them for the end. You choose (some years the club plays that anything hire than a triple-bogey necessitates the use of a shotgun shell).
At the end, you will subtract a specific number of additional strokes (from chart below) and one-half stroke for every unused "shotgun shell". (Higher handicappers will receive more after-round strokes to compensate for their reduced ammunition.). 1st and 2nd place receive a price.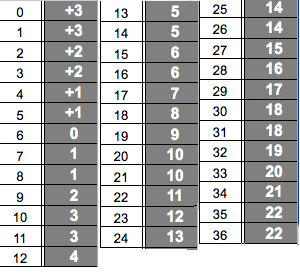 .
Tie-Breaker for 1st and 2nd places:
1. Back nine net (incl dead turkey pars and half additional strokes – 0.5 or greater rounded up)
2. Last six net (incl dead turkey pars and one-third additional strokes – no credit for left-over ammo)
3. Final three net (incl dead turkey pars and one-sixth* additional strokes – no credit for left-over ammo)