If you are interested in organizing a club tournament this Halloween, here is an interesting format used by the West Puget Sound Men's Club, a club that uses MyScorecard to help make their rounds more enjoyable and fun. We appreciate their sharing their annual tournament with us.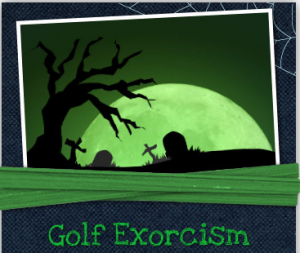 Format
The tournament is a regular tournament with two twists:
1) Based on your handicap (refer to chart below) you will be allowed to exorcise a specified number of demon holes before the round. Just declare the hole in advance and write in a par for each.
2) After the round you will be allowed to subtract a specific number of strokes for your handicap.
Strategy
So you say you're not afraid of ghosts?
You may wish to use your exorcisms to play "easy" holes aggressively without fear of a big number. Should you birdie one of your selected demon holes, not only do you get to keep the birdie (you can erase the par you wrote on the card, then enter the birdie,), but that exorcism becomes a wild card for you to use after the round on any hole that took a bite out of you. A wild card is a powerful tool – thus the tough decision is whether to choose the hardest hole, or perhaps the easiest hole and play it aggressively.
After the round, the specified number of strokes is subtracted from the exorcised resulting in a net score. The lowest net score and second lowest net score win 1st and 2nd place prizes.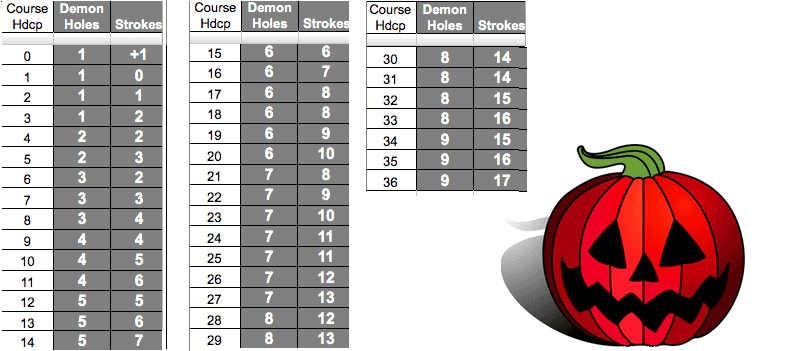 In case of a tie, the -Breakers for 1st and 2nd places:
1. Back nine net (incl pars or better for demons and one-half additional strokes)
2. Last six holes net (incl pars or better for demons and one-third additional strokes)
3. Final three holes net (incl pars or better for demons and one-sixth additional strokes)
Do you have a golf game or tournament that you would like to make famous? Send us an email and we'll be glad to share it with the MyScorecard community