Mistakes are a part of human beings. Professional golfers are no exceptions to it when it comes to playing by the rules. Some due to ignorance and some just out of oversight. Unfortunately the history of golf has seen several such instances – at times small mistakes costed some players even a tournament. That said, ignorance is not a bliss, at least in golf. Here is a new series from our Scratch Pad desk covering such instances – Costliest Rulings in Golf.
# 1.  Roberto De Vicenzo:1968 Masters
Roberto De Vicenzo is the greatest golfer South America has ever produced with 230 tournaments and 8 PGA tours under his belt. But he is remembered not just for what he won, also for what he lost. Yes, you read that right! History always remembers the winners, 1968 masters tournament is an exception.
Roberto De Vicenzo was in mid 40s at the 1968 masters and had just won the British Open the same year. He was in complete control of his game at Augusta and shot a magnificent 65 in the final round to tie Bob Goalby for first place. But something dramatic happened then. Tommy Aaron, his playing partner and who kept De Vicenzo's score, mistakenly put down a four for the 17th hole instead of a birdie three, which was De Vicenzo's actual score. De Vicenzo didn't catch the error and signed it. When he did that, he signed for a 66 instead of a 65, handing the 1968 Masters to Bob Goalby by default and settling with a second place.

Grief-stricken on his mistake, De Vicenzo then uttered what has become one of the most famous quotes in golf, "What a stupid I am!".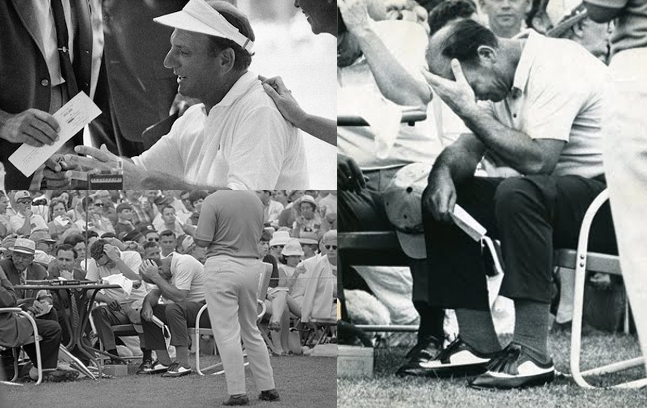 Below is the final leaderboard of the 1968 masters,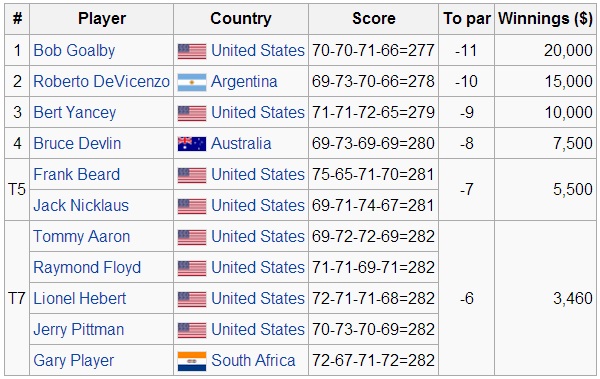 Here is what rule of Golf (6-6d) says,
The competitor is responsible for the correctness of the score recorded for each hole on his score card. If he returns a score for any hole lower than actually taken, he is disqualified. If he returns a score for any hole higher than actually taken, the score as returned stands.
"For me, the Masters hasn't ended," De Vicenzo told Golf Digest in a 2006 interview. "Technically, the ending was legal. But there is something missing. The winner hasn't yet emerged. It lacks an ending. Someday, maybe in another place, it will be decided" he adds.
De Vicenzo never won another major. Tommy Aaron went on to win the 1973 Masters, where, ironically, he caught a mistake on his scorecard made by his playing partner. Well, that's a perfect example for learning from the past.