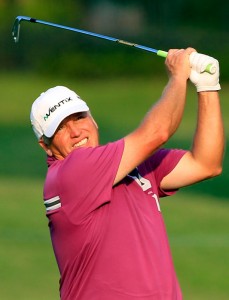 Understanding how good the pros really are is best illustrated by the story of Kip Henley
All Kip Henley ever wanted was to be a tour player. His obsession began at age 5 when his mother, who worked folding boxes at the Arnold Palmer company in Chattanooga, provided her young son with a cut-off set of Arnold Palmer signature clubs.
Kip gave up his amateur status in 1982, trying tour school. No one tried harder and got less out of it than ol' Kipper," he said. "I paid a fortune in Q-School fees for probably 12 years." After running out of funds, he turned to the life of a club pro and became a Class A PGA professional.
He has maintained his Class A standing with the PGA of America for years. Over the past 5 years, he made the transition to caddying for Tour Pro Brian Gay (that's Kip in the white jumpsuit with Brian at the Masters) .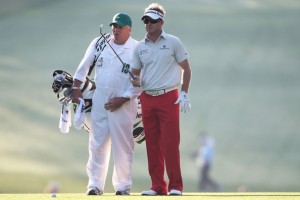 In fact, Kip picked up $100,000 a couple of years ago when Gay won the FedEx/St. Jude Classic in Memphis.
Last fall, for reasons he still doesn't understand, Kip Henley played in and won the Tennessee PGA Section championship, "even though I hadn't broken par all year." Talk about the blind squirrel finding a nut. "I shot 10 under for 54 holes," Henley said. "Like I said, a miracle. I stood on the 16th hole in the final round and made birdie on 16, 17 and 18, with my hands shaking."
His win earned Kip a spot on the Fedex/St. Jude Classic Field, a tournament he caddied not so long ago. After wrestling with the decision for months, Kip decided to throw his hat in the ring.
So how did a long time club pro, who shot 10 under in a recent sectional, do against the pros in a major tournament?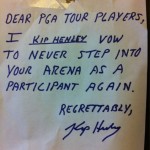 He missed the cut and finished dead last, 17 strokes behind the leader after two rounds. Chagrined, he left a note for his fellow players in the locker room.
We tell this story not to make a point about Kip's performance (we believe he did a great job for someone who doesn't compete on a regular basis) but to illustrate how great the players on tour really are. A golfer who can consistently shoot 5 under averages 8-9 strokes behind the leader in a competitive PGA tournament.
At MyScorecard we enable our members to compare their statistical performance against their favorite PGA and LPGA professionals. We also compute the pros' handicaps based on their performance in the previous tournament season – but we include a range to try and take into account the extra difficult conditions, the pressure of the crowd and their competitors. That said, we would be the first to admit that we may still be underestimating their level of performance. Phil Mickelson with a +5.6 to +6.8 index? We may want to take off a few more strokes from that number. They're just that good.
Our thanks to the folks at 72strokes.com for bringing this story to our attention.