MyScorecard's You versus the Pros performance report offers you the ability to compare your skill against your favorite PGA and LPGA professional.
But how good do you have to be to graduate from Q-School?
We've run the numbers for the 2010 PGA and LPGA tour season in terms of 3 of the most often tracked statistics: Driving Distance, Greens in Regulation, and Putting.
Driving Distance
Averaging 315+ yards per drive, Robert Garrigus is far and away the longest driver on the PGA tour, with Bubba Watson leading the rest of the pack. But do you have to be a 300+ yard driver to be on the Men's Tour? Not quite so. The vast majority of PGA tour players drive between 280 and 300 yards – but you'd better be at least 275 or longer if you want to play on the tour.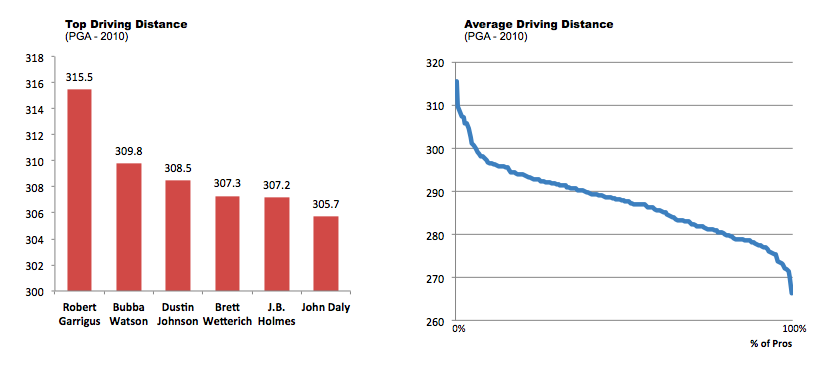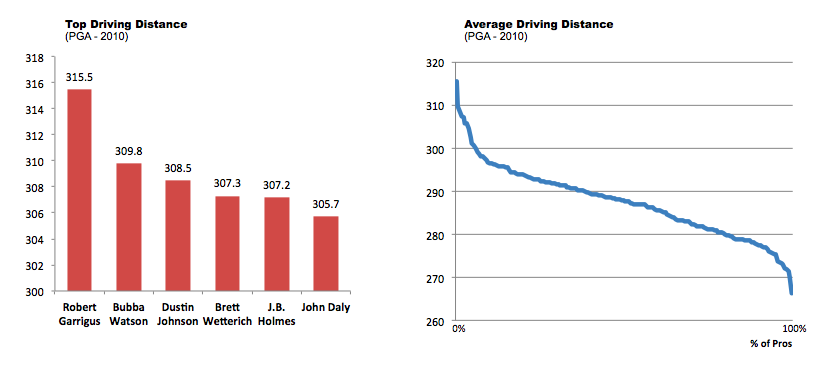 Greens in Regulation (GIR)
In contrast to the Men's tour, it is the LPGA pros that lead in GIR accuracy. Top player Suzanne Pettersen hits 3 out of every 4 Greens in Regulation. That's over 13 holes per round – more than double that of most amateurs. Do you have to be that good? No, but you have to hit 10 holes or better on an average round (55%) to join her on the tour.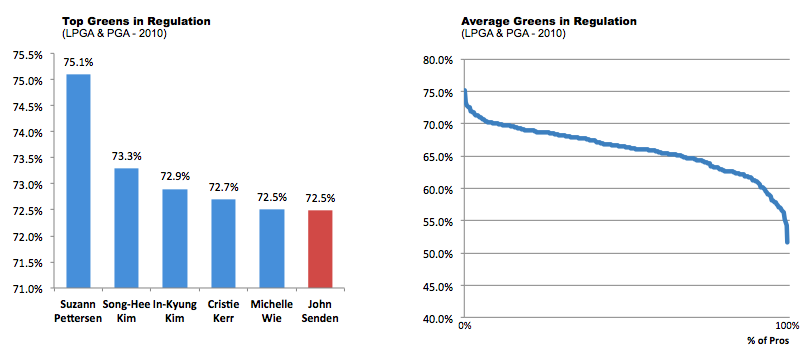 Putting (Putts per GIR)
The best way to separate out putting from the rest of a player's short game is to look only at putting only on holes where that player has reached the green in regulation (thus Putts per GIR). As seen in the chart below, top players on both PGA and LPGA tours one-putt about 25% of the time they are on the green in regulation – combined with the fact that their GIR % is 2/3 or better, that's a birdie every six holes in some pretty tough conditions!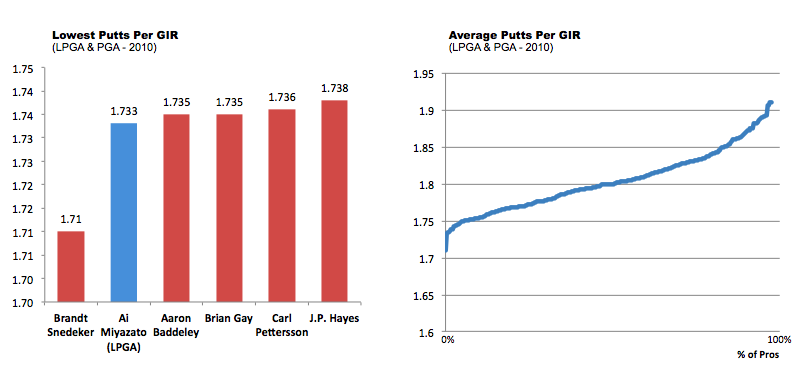 Surprisingly enough the minimum requirement is a Putts/GIR of 1.9, which translates into a birdie one out every ten holes. Far better than the three-putts that many of us achieve on a regular basis, but not terribly out of the realm of the possible.
If you are wondering about the Pros skills with any additional statistics, write us a comment and we'd be glad to tally them up for you. If you would like to compare yourself to the top pros on the PGA and LPGA tour, signed up for a free trial of the MyScorecard service, enter some scores, and go to the You versus the Pros report.