THE WOLFF IS ON THE PROWL
Defending Champion Tommy Wolff makes his move on Friday.  The cutline moved to (-2) at 3:45CST
BLAINE, MINN–Matthew Wolff sits tied in 6th place posting a round 2 3-under 68 rounding out his score to a healthy (-9) overall going into the weekend.  Wolff played a very patient round, avoiding bogey while going 10/14 on fairways, 14/18 on greens and 40% from putts 10-20 feet away (3/4 in round 2).  Wolff is (-30) in his last 6 rounds of the 3M Open. The champ navigated through rough conditions as the wind picked up in the afternoon as the cross winds affected the open areas of the course and forced golfers to be honest, especially on the par 3 13th which proved to be adventurous throughout the middle of the day.
TPC TWIN CITIES-GOLF COURSE LAYOUT
"MICHAEL THOMPSON GOLF" IS… :
Micheal Thompson seeks his second PGA tour victory (2013 Honda Classic)
" The best way to play golf…The big thing is try not to over power the golf course…Stay within myself…Make good comfortable swings…Aggressive swings to go to good targets…Stay aggressive with pins when I can, when (I) have good numbers…Keeping it simple…"
-Michael Thompson
Self-explained.  Self-made.  So far the mindset is working.  Thompson is playing out of body after missing the cut at the Workday Charity Open in mid-July.  Now all of a sudden, Thompson is crushing it this week at the TPC Twin Cities.  Thompson only has one top ten finish this season (RBC Heritage-8th)
Thompson's SG Putting after 2 rounds:+4.66 (rank: 3rd) continued and resulted into a smooth round 3 -under 68:
Michael Thompson Scorecard
Hole
Yards
Par
1
426
4
2
468
4
3
501
4
4
177
3
5
424
4
6
594
5
7
381
4
8
204
3
9
502
4
Out
3677
35
68 (-3)
4
4
4
3
3
4
3
3
4
32
Hole
Yards
Par
10
379
4
11
467
4
12
593
5
13
228
3
14
437
4
15
451
4
16
411
4
17
229
3
18
596
5
In
3791
36
Total
Yds: 7468
Par: 71
4
4
4
3
4
4
4
4
5
36
YOUNG RICHY
 Richy Werenski is trying his best rendition: Keeping up with the Thompson
WHAT'S HOLDING TONY FINAU BACK?
Some more flashes of greatness as Tony Finau continues his assault on the leaderboard.  Is Finau a threat for a major this season?
KOEPKA MAKES/MISSES THE CUT
Chase best his older brother and defending back-to-back PGA Championship winner, Brooks who failed to make the cut this week in Minnesota
As rare as these opportunities may be, Chase vs, Brooks will always fun for me to watch.  Being the second oldest in my family, I understand full well what it means to follow in big brother's dominant athletic footsteps and eventual shadow.  It's never easy.  I do however,  also understand the ultimate importance of bragging rights whenever applicable!  Young Chase Koepka, a former University of South Florida graduate, is still battling on the Korn Ferry Tour and on this scarce opportunity to prove himself, got a chance to play and best his older brother and 4-time majors champion Brooks (30) in the "Big Leagues."  This week he managed to make the cut (-4) at the 3M Open while big brother Brooks continued to stumble.  In his defense, the elder Koepka has been fighting a nagging knee injury throughout the year and was visibly forced to play the TPC Twin Cities tentatively which resulted in him falling short of the cut at (-1).  As for the younger Koepka: Well, if Chase is anything like me, Brooks wouldn't hear the end of it with regards to his old ass knee and I would needle and remind at every turn about how superior I  have finally become over him on the field of battle that we recognize as… "the golf course." Meanwhile, while Chase's eager comments fall deaf on Brooks' ears, the elder will be pontificating on whether or not to defend his title at the upcoming WGC FedEx-St. Jude's r to reserve himself towards setting his sights on his attempt at a historical three-peat at this year's PGA Championship.  Brooks returns to the lab in the hopes of heading to Harding Park in one piece and ready by the beginning of August.
DICK GROAT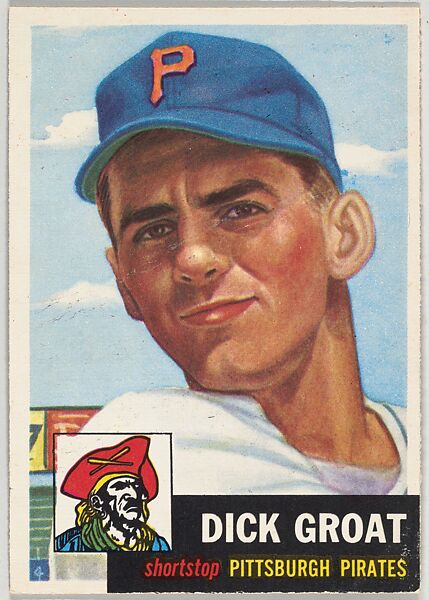 Both Koepkas are the nephews of former Major League Baseball player and Regular Season MVP (1960) Richard "Dick" Groat (mainly of Pittsburgh Pirates and St. Louis Cardinals fame).  Groat was a two-way sports star, having also played college basketball at Duke University
For the record: I am almost assured that Chase is nowhere near as petty as I am when it comes to competition with his older brother…but not-so secretly hope that he is… 😉