WHAT'S THE POINTS?
Current FedEx Cup Points Leader Justin Thomas (1, 843 pts) hoisting the PGA Championship in 2017
UNITED STATES–The 2020 PGA Tour season will feature some slight changes to the current FedEx Cup scoring system.  The tweaks are designed to encourage players to participate in as many sponsored tournaments as possible.  Top 10 finishes have a heavier emphasis this season and going forward.  The money is amazing, but keep in mind that players on tour pay for all of their expenses and must pay their caddies weekly, so all of the less seasoned and less wealthy members of the tour have to be equally as mindful of their expenses as the more veteran and established stars can pick and choose how they navigate throughout the season.  Players must finish in the Top 125 at the end of the PGA tour year (following the Wyndham Championship in Greensboro, NC) to qualify for the FedEx Cup Playoffs where the total bonus pool is $70M (an increase of $25M), including a $2M regular season bonus for the winner prior to the Playoffs, with the FedEx Champion earning $15M.
FedEx Cup History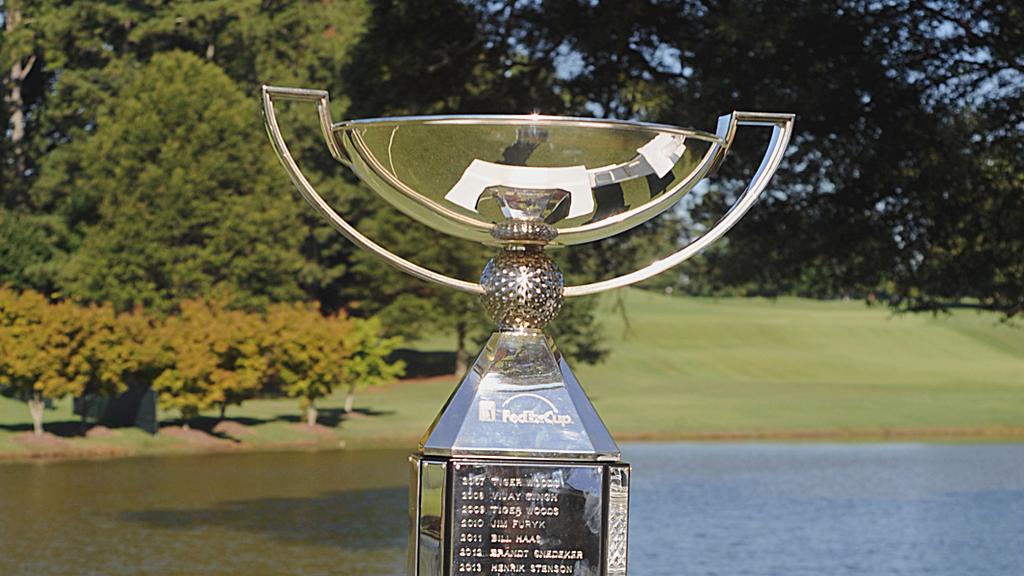 FedEx Cup Trophy
The FedEx Cup concept debuted in 2005 with its inaugural champion (Tiger Woods) crowned in 2007.  Rory MclLroy (2016)/(2019) and Woods (2007)/(2009) are the only multiple time winners with both claiming 2 titles each.  Changes are implemented every two years to keep the tournament fresh and increase parody.  This proved to be effective as immediately as 2008 when Vijay Singh had accumulated enough points through the first three playoffs events to guarantee that he would win the Cup without having to finish the final event.  The challenge and the requirements of the FedEx Cup has proven to have added greater exposure for younger up and coming players.
The FedEx Cup Playoffs events features a progressive cut, with fields of 125 for The Northern Trust (Liberty National Golf Club, Jersey City, New Jersey), 70 for the BMW Championship (Medinah Country Club, Medinah, Illinois) and 30 for the Tour Championship (East Lake Golf Club, Atlanta, Georgia), where the FedEx Cup Champion is determined. In the event an eligible player is unable or chooses not to play, the field is shortened and no alternates are added.  The Cup has featured a strokes based system (Starting Strokes) since 2019.  The points leader after the first two Playoffs events begins the Tour Championship at 10- under par.  The No. 2 player will start at 8- under and No. 3 at 7- under and so on (see FedEx Cup Overview above).   Notable winners in recent years include: Justin Rose ('18), Jordan Spieth ('15), Henrik Stenson ('13), Brandt Snedeker ('12), Jim Furyk ('10)