By: Jonathan Baker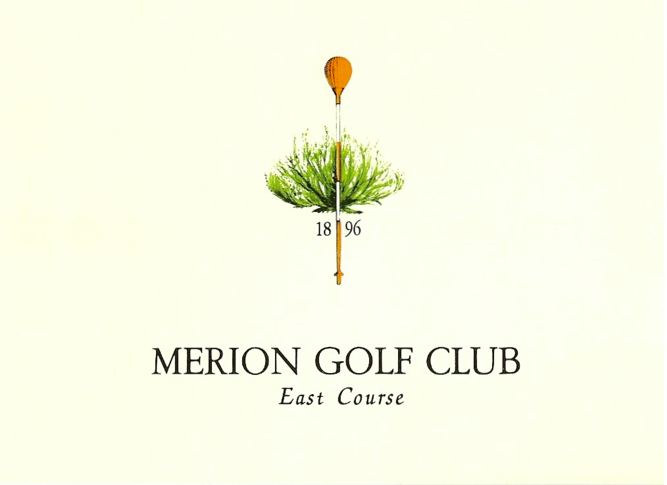 Most courses ranked atop America's 100 Greatest Golf Courses have a special component to them. Something intangible that you don't necessarily expect until you play there. Maybe it's the history, the grounds, the exclusivity, the views, the course conditions. Whatever it is, it creates an aura around the entire experience that makes you float mindlessly, yet remember everything.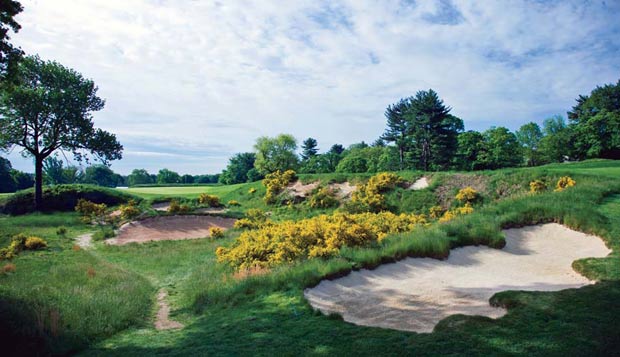 I've been lucky enough to have this happen a few times. It's come along the Pacific cliffs at Cypress Point, amid the azaleas at Augusta, and most recently among the white faces and wicker baskets at a course that embodies the true essence of golf's golden age: Merion Golf Club.
Situated among the well-healed neighborhoods along Philadelphia's Main Line, the Merion Cricket Club was founded in 1865, a sporting playground for the Philadelphia elite. By 1896, a golf contingent had emerged from the membership and with it, an 18-hole course on the club grounds in Haverford. A decade into the 20th century, Merion turned to Scotsman Hugh Wilson, to design and build a new course on acquired land in nearby Ardmore. By September of 1912, Merion Golf Club's East Course opened for play, and was instantly hailed among experts, "the finest inland links in the country."
It was an impressive start at just the right time, as golf – buoyed by Francis Ouimet's miraculous US Open victory in 1913 – was about to explode in America. And Merion, as if scripted by the golf gods, would be the site of some of the most important moments throughout the next 5 decades.

Bobby Jones – the most famous athlete of his time – book ended his career on the East Course. He made his major tournament debut at the 1916 US Amateur, won his first US Am title in 1924, and completed golf's greatest feat, the Grand Slam, in 1930. Ben Hogan heroically limped his way around Merion in the 1950 US Open; merely one year after a near fatal auto accident left him re-learning how to walk. The victory was punctuated (and perfectly captured by Life Magazine) with a soaring 1-iron approach to the 72nd hole. He would make a gutsy par and won in a playoff the next day. Jack Nicklaus displayed what some historians believe the most dominating performance in golf, shooting 66-67-68-68 in the 1960 World Amateur Team Championships. And a swashbuckling Lee Trevino took down the Golden Bear in his prime, defeating Nicklaus in a playoff at Merion in the 1971 US Open.
Given the heroics of these legendary players, it comes as a shock to find out that Merion plays about as long as your local muni: 6580 yards from the tips. Sure, the pros will play it "stretched," at a shade-under 7,000 yards when Merion hosts their record 19th USGA Championship next summer during the 2013 US Open. But the fact that this little course, on a mere 120 acres remains one of golf's ultimate tests lies in the genius course routing. It's smart, interesting, efficient, tough, and well, downright fun. Or to quote Jack Nicklaus, "Acre for acre, it may be the best test of golf in the world."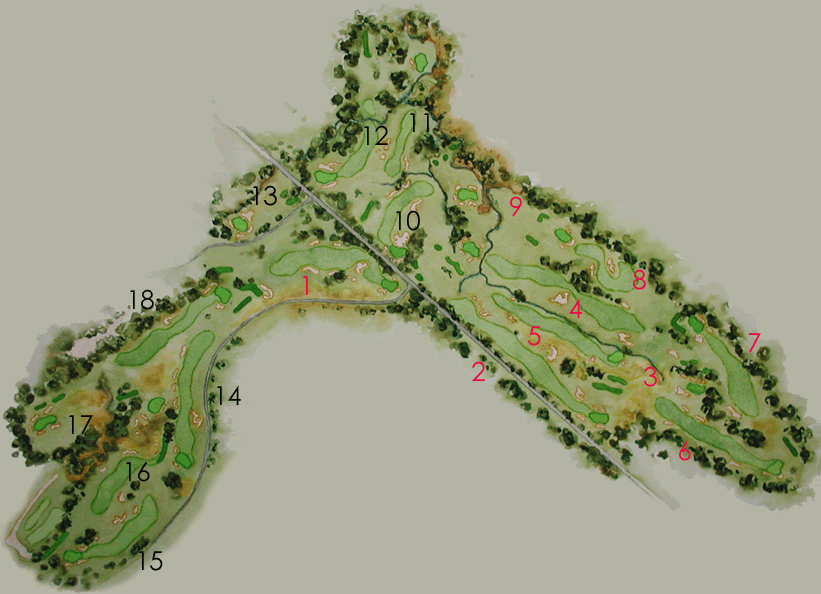 Merion weaves an artful mixture of long and short holes that provide both daunting challenge and surprising scoring opportunities. It's described as a three-act play, consisting of the Drama (holes 1-6), the Comedy (holes 7-13) and the Tragedy (holes 14-18). The accuracy of this portrayal is immediately realized the moment you walk on the first tee.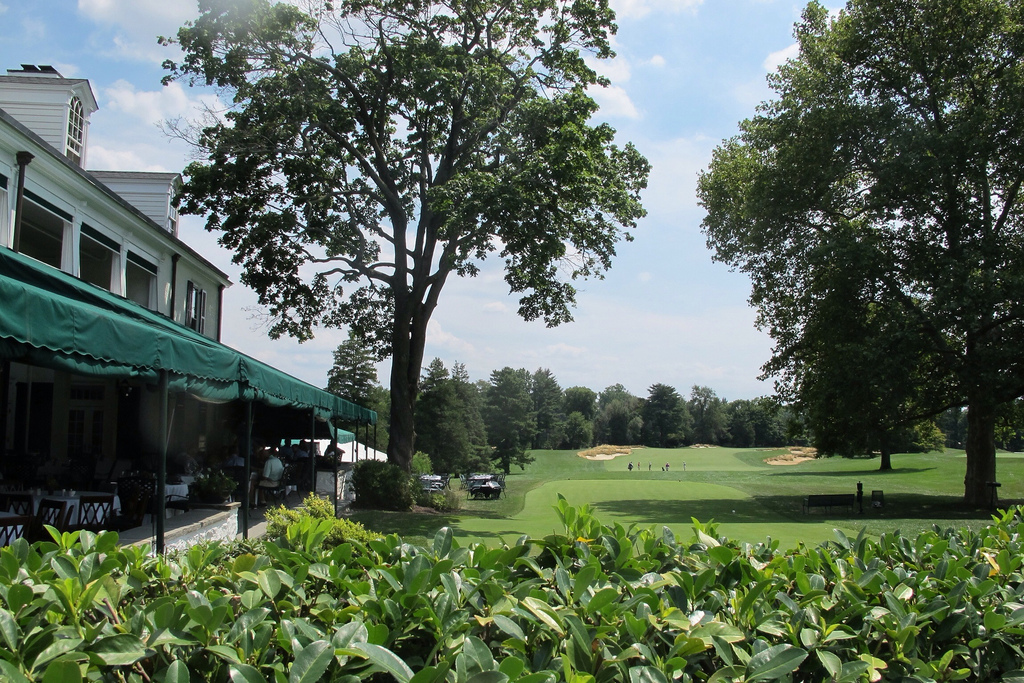 "Standing on the first tee, you have to feel a moving sense of privilege," Dan Jenkins once said. "You are exactly where just about every great in the game of golf has been before starting a major championship."
As if this wasn't pressure enough, it's impossible not to feel the eyes of those having lunch a mere few feet away on the upper terrace. As conversation gets quiet, utensils get gently placed, and all attention turns to the tee, Merion's purist no-mulligan rule becomes even more daunting. But this also makes an accurate tee ball all the more rewarding. After this unforgettable start, The Drama continues with both of Merion's par-5's, the number one handicap hole, the number five handicap hole, and a brutally long par-3. It's a roller coaster that can leave you befuddled — what should be easy is hard and what looks impossible plays tough but fair.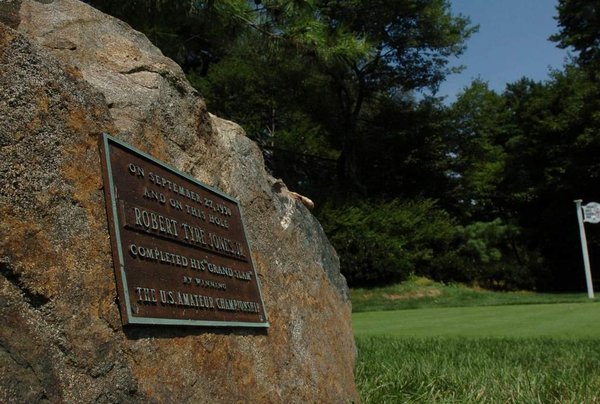 Starting on the 7th, The Comedy act seems to bounce its way over the rolling terrain, full of optimism. There are short – at times drive-able – par-4s, reasons to stop and ponder (for the Grand Slam plaque on No. 11, or for a frosty Arnold Palmer at the turn), and a par-3 finish framed by the clubhouse that requires no more than a wedge. It's the type of golf that yields excitement – both from the occasional birdie or eagle chance, and the overwhelming feeling that you are traversing sacred grounds.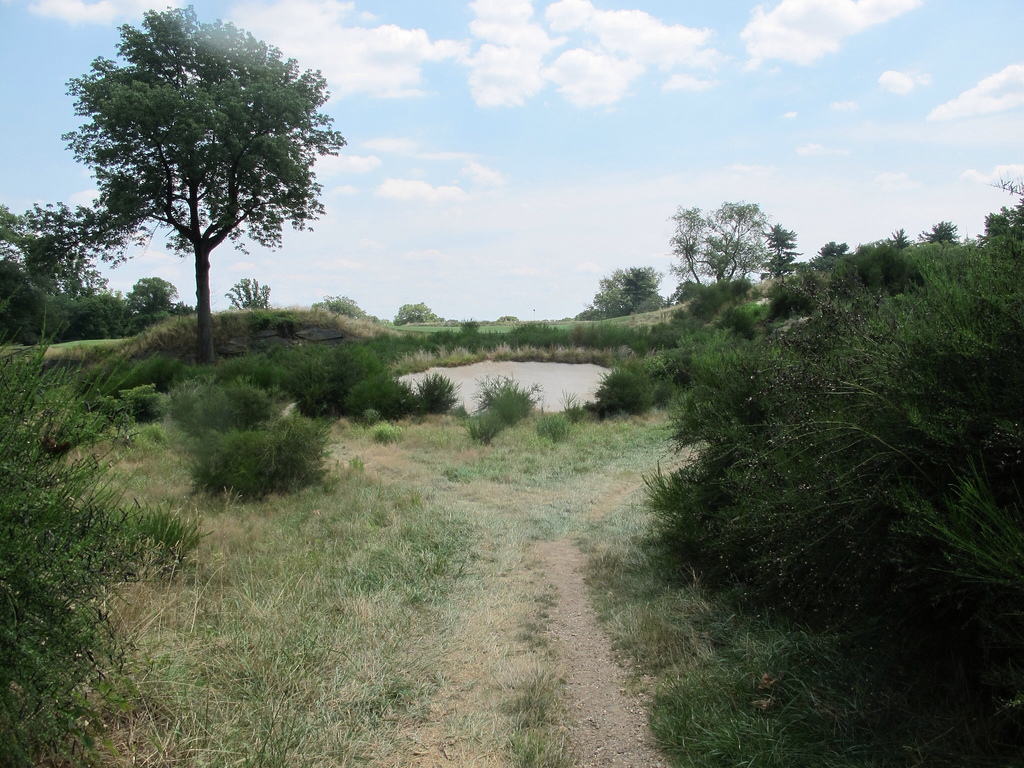 The Tragedy makes its presence known as you walk from the 13th green, past the stately old clubhouse to the 14th tee. A brutally tight, long hole with O.B., knee-high fescue and a treacherous green, you instinctually feel a change, as if a great conversation you were having turned really serious. Played around, over and through an old rock quarry, the final three holes define the act, and are as tough as any closing stretch in the game with two 400+ par-4s (Nos. 16 and 18) sandwiching a par-3 that measures 230 yards. If the numbers aren't enough, all are complicated with tight landing areas and severe carries that make the clubhouse a welcome site upon completion.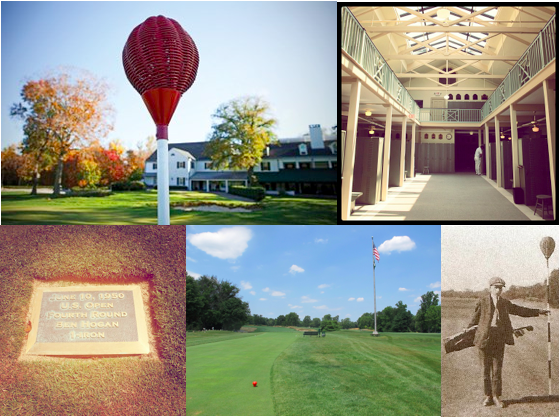 Having a grand history and remarkable routing certainly put Merion in a class all its own. But it's the intangibles that make it so incredibly special.
The charming and distinctive wicker baskets, which the origin is still unknown, remain one-of-kind and undoubtedly defining. The American flag, hoisted high atop 18 can be seen from a multitude of vantage points. Course conditions range from perfectly lush (fairways, greens) to downright gnarly (high fescue, Scottish broom), with a constant motive that setup and playing conditions mirror the championships of past eras. It's a walking-only golf course with the best caddie corps in the country, evident by the fact there aren't any yardage markers. The bunkers, known as "the white faces of Merion" with their brutally furry eyebrows and wire grass patches, are as severe as they are beautiful. The old clubhouse, which was once a farmhouse, is a national historic landmark. Metal lockers and shower heads the size of manhole covers make the locker room a charmingly low-key but instantly memorable affair. Photos, framed scorecards and a trophy-case-to-end-all-trophy-cases, gives an immediate and eerie sense of history. The beer served in tall, ceramic mugs is, well, just better that way. And the Snapper Soup, topped with a liberal amount of Sherry and best enjoyed with a view of the first tee, could very well be the best lunch in all of golf.
Amid the modern golf landscape of cart-happy, subdivision courses crammed to their 8000 yard-max with man-made waterfalls and full bar at every third hole, it's easy to forget what golf once was: A gentleman's game; played on tracks that fit the natural landscape while boasting clever routing and a fair challenge. It was a game that was to be walked, with friends and cohorts, with a few wagers and honest sportsmanship. Pints would be enjoyed not during but after the round, along with backslaps and nightcaps.
Merion is a time-warp to Golf's Golden Age in America. It's simple and understated, yet layered with depth, history, charisma, and an honest intent to preserve the game in its purest form. And while it doesn't have Augusta's blooming azaleas or the ocean views of Cypress and Shinnecock, Merion embodies the true essence of golf. And I am forever grateful to have gotten to know her.
BIO: Jonathan Baker is a television producer for Turner Broadcasting, coins a blog calledSimple Classic Living and in April serves as the Director of Content for Masters.com. He enjoys golf course architecture, club history, and a post-round gin-and-tonic…particularly after a round at his favorite course in his hometown of Atlanta, East Lake Golf Club.
Jon @ atruegolfer.com