The indepth, benevolent interrogation by Charlie Rose doesn't escape the game we know and love. When I heard that Tom Watson would be on the other side of the round, oak table I knew it would be something to TiVo. Below is the 32 minute interview and the summary that follow.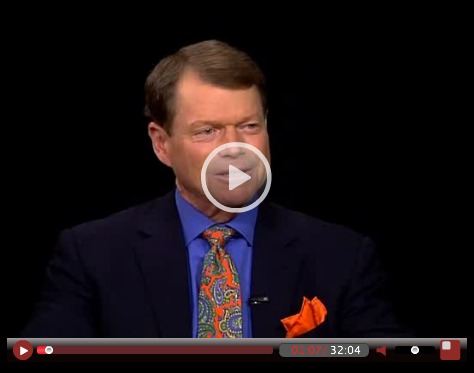 – Charlie opens the interview with a look back at Watson's chip-in on the 17th at Pebble.
– Watson truly believed he could win the Wednesday night before the start of the tournament.
– His example of what makes his experience beneficial is fantastic; trust and confidence in the course made his 6 prior experiences at Turnberry such an advantage.
– Watson on links golf "That's links golf, you just don't know."
– Tom's hatred of failure is what drove him to succeed.
– The caddy-player relationship in Watson's life is amazing. Bruce Edwards spent over 30 years on the bag with Watson.
– When the ball was in the air on 18 at Turnberry in 2009, Watson thought it would be 77′ all over again.
– Watson's major motivation for great play at the Masters this year was his son being on the bag.
– To be great at anything, you've got to have conviction that you're great. Tom believed that.
– Everyone always talked about Jack and his strategy around the course. Watson puts it in much simpler terms by saying, "Jack was the best at taking the element of risk out of an individual shot."
Two Questions Watson Asked Hogan: it surprises me that Tom only met Ben once.
– Do you ever think a tall golfer will ever be one of the best players?" Hogan responded by saying "Absolutely."
– How nervous did you get when you were playing in competition? Hogan replied, "Tom, I was so nervous I was jumping out of my skin."
– Charlie asks "Why would you wake up and not warm-up well if you in the lead?" A simple question, but yet, it cuts to the heart of the enigma is that is the game of golf. Watson replies that is just the way the the game is and feel is such a big factor.
– The snowball effect of losing confidence happened to Tom midway through his career.
Watson finds "it."
– His practice session on the range in 1994 is where Tom Watson discovered his secret. There are many similarities to Tom's secret and the one of Ben Hogan.
– Wow, did not know Tom Watson thought about quitting the game.
– Learn from the best through observation.
– Watson equates ball striking to pitcher's and their control of the movement of their pitch.
– The modern golf swing is epitomized in Sam Snead's swing.
Jon @ atruegolfer.com