Continuing with our series from the The Itinerant Golfer's quest to play all top 100 American golf courses, The Scratch Pad is glad to bring you a profile of the 33rd rated golf course in America, San Francisco G.C.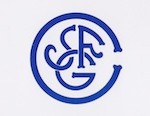 San Francisco Golf Club
Location: San Francisco, CA
Year Constructed: 1918
Played: May 22, 2010
Please just let me find it . . . Is that really so much to ask? . . . Just give me a chance . . . All I'm asking for is a chance. These thoughts raced through my head as I walked to the left side of the 18th hole at San Francisco Golf Club. The 18th hole is a 508 yard par 5 and I REALLY would like to make a birdie here. Under normal conditions I should be able to reach the green in two, but today the wind is blowing something terrible and after floating a weakly cut drive to the middle of the fairway I was well outside the "go zone". With the ball lying slightly above my feet for my second stroke I hooked the shot out of sight and now I'm literally just hoping I can find it. All I want is to have a chance to knock my third shot on the green so maybe I can roll a putt in for the birdie. To me, this seems like a more than reasonable request.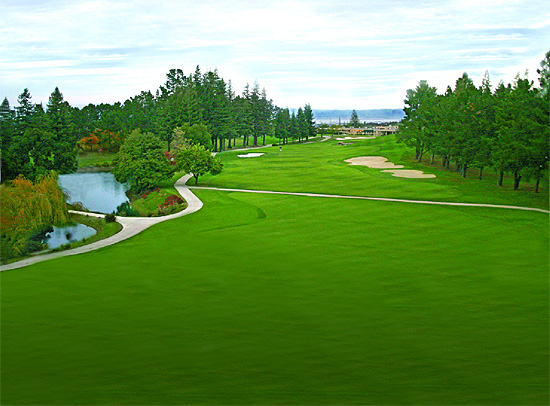 Getting a chance to play here is truly a rare and special opportunity, so I'm counting myself very, very lucky to be standing on the first tee. The course was designed by A.W. Tillinghast who is mostly known for his large body of work on the East Coast. San Francisco Golf Club is probably Tillie's most well known layout west of the Mississippi, yet despite this fact, it is still relatively unknown outside of golf buffs. In my opinion this qualifies the course for hidden gem status. Most of Tillinghast's East Coast courses were designed in the mid to late 1920s, so having been designed in 1918 makes SFGC one of his earlier works. Every person I've met who has played the course just raves about it so I was really looking forward to my game there.
One of the things that I noticed immediately were the trees. I'd never seen trees like these before. Some of them had huge monster trunks with craggy old limbs that made them look like they had been growing there for 1000 years. There were cypress trees, oak trees and a number of other varieties that I could not identify. For me they really defined the feel of the course.
I loved the 3rd hole which is a 372 yard par 4 where the drive allows the player to choose their own adventure and carry as much bunker as they are willing to bite off. The view from the tee box can be a bit intimidating depending on what line you are choosing. Standing on the tee it is about as pretty of a golf hole as you could ever see.
The 7th hole is undoubtedly the most famous hole on the course. It is a downhill par 3 that we played from 169 yards and is known as the "Duel Hole". The ground where this hole was built is the site of the last legal duel in the state of California. David C. Broderick, U.S. Senator from California and David S. Terry Ex-Chief Justice of the Supreme Court of California faced off here with hair trigger dueling pistols at 10 paces on September 15th of 1859. In a speech to the Lecompton Democratic State Convention in Sacramento Terry had declared Broderick to be an arch traitor to his party. This led to a similar accusation from Broderick, which then led to quarreling back and forth until it was decided that a duel would take place. This was still the custom for settling disputes at the time, so it was very much a legal practice. When "Fire!" was called Broderick shot first but was too quick and the bullet hit the ground at Terry's feet. Terry's shot hit Broderick in the chest and the Senator died not too long afterward. There are stone monuments to represent where the duelists stood, but I did not walk down to the actual spot to examine them. A very interesting history for a golf hole. I suppose my 7 iron to 2 feet and birdie putt won't even tip the interest meter compared to that story. I must say it's always nice to get a bird on a famous hole even if it won't go into the history books.
As I wrapped up the first nine holes by tapping in for bogey I realized that I was playing respectably and had gone out in 39 which meant I was in striking distance of breaking that ever elusive 80 barrier. After we finished up on the 9th green we popped into the clubhouse to pick up a quick beverage and a cookie and then went directly to the 10th tee. We played this hole as a 380 yard par 4, and after a solid drive I had just a wedge into the green which I hit to about 30 feet. I casually rolled it right into the heart of the cup for another birdie. This game is so easy.
The 13th hole is another one I loved. It's a fantastic par 3 that we played from a nice little distance of 126 yards. The bunkering around this green is beautiful, but these beaches are not a spot you want your ball to find. We had a tough hole location that I would not have wanted to access from the bunkers. Golf course architect Tom Doak recently did some work on the course and this hole is one that he restored to Tillinghast's original vision. It is as beautiful as it is fun to play.
By time I reached the 14th tee, I didn't really know it at the time, but I was just 4 over par with 5 holes left to play. Conceivably this could be my big breakthrough to the 70s. I must have realized this on a subliminal level because I yanked my drive to the left for my first really bad drive of the day. Here, I must point out one of the great things about San Francisco Golf Club. Although I hit a bad shot . . . and it was BAD . . . I was able to find it and hit it again. I was penalized by having to hit from long grass and a less than ideal angle, but I didn't have to reload and make my third stroke from the tee box. That's the way golf should be. I always like having the chance to make a good recovery shot rather than a stroke and distance penalty. After all, golf is supposed to be fun you know.
So from the spot of my bad drive I hit a pretty good recovery shot but not quite good enough and it landed in the bunker in front of the green. I struggled from there and ended up with a double. Now I'm six over. Par here is 71 so I can afford to give up 2 strokes on the last four holes and still come in with a 79. So there's still a chance . . .
After a par on the 15th hole and a bogey on the 16th hole I hit my second really bad drive of the day on the 17th hole and walked away with another double. I was going to need to birdie 18 for a 79. Ugh. After my drive and second shot on the 18th hole that brings us back to where I was at the beginning of this post . . . hoping to find my ball.
Well, to finish the story, I did find it. Unfortunately it was lying so close to a bush that there was no way to put a decent swing on it. I chopped at it with my 5 iron and whiffed. Well, there went any hope of birdie and breaking 80 out the window. With my 4th stroke I hit out to the fairway and then knocked my pitch onto the green. After a 3 putt I walked away with an 8 and a grand total of 83. So close, yet so far. Eight over on the last five holes. The headcase strikes again. The 70s will have to wait for another day.
All that being said, I certainly didn't let something as insignificant as scoring ruin my day at San Francisco Golf Club. One of my general rules of thumb is that when I'm playing a course I may only see one time in my life, I don't really care about score. If a good score geta posted it makes the day even sweeter, but if I put up a enormous number I'm still happy to have been there and gotten the opportunity to enjoy the course.
San Francisco Golf Club is a course you simply don't have to try real hard to enjoy. With its great elevation changes on the first nine holes, fantastic par 3s, beautiful bunkering and the idyllic setting it's the type of golf course I could play every single day and never become bored. The course has the perfect combination of difficultly and playability which makes it a tremendously fun place to play golf. It may not be Tillinghast's most famous design, but it is absolutely one of my favorites. You don't find many golf experiences this pure.