Shawn is a member of MyScorecard and is currently a student at the Keiser University College of Golf in Port Saint Lucie, FL. He's undergone superb improvement in his game, dropping his index from a 19 to a 9 in just under 12 months. Below, posted from his blog Golf with Shawn, is one his lessons regarding his dramatic improvement.
PGA Master Professional Dr. Wilson has stated at school several times for us to play the forward tees, "Shoot Par there, then move back". You can read one of his articles on Facebook titled "Learning to Play, Learning to Score" .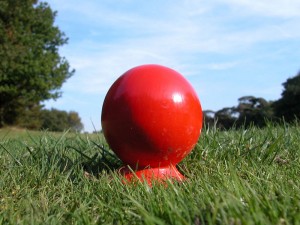 The first time I heard him say it, that is what I wanted to do. The hard part was getting the rest of my foursome to tee off with me. EVERYONE wants to play the tips and tournament tees. I had found it to be hard to be the only one to play around the middle tee ground. A lot of times the group would tee off then forget about me.
Recently with some of my closer friends at school I have been able to convince them to do this. During these "practice rounds" I have started to notice something more and more… there have been a lot of smiles, laughter, and good vibes throughout the round. With my golf game I have noticed more improvements with my swing and ball contact. Something has just clicked, and all the lessons I have had at school I am starting to feel the difference in my swing and contact with the ball.
One friend who used to throw his club would go flying across the fairway and into some bushes now has started to say "I hit that shot really well". (I never understood the throwing of clubs anyway. It's not like it helps you with your next shot, in fact I feel it just helps to steam roll you further into decline.)
I have broken 80 the last few rounds I have played. It has been very exciting, and to think 5 months ago when I started school my rounds were usually 117 . I have tracked my progress and stats using MyScorecard and along the way have set goals for myself. Instead of looking at PAR 72, each round I had my own PAR… so when I broke a 100, my next goal was to be in the 90′s. Once I broke 90 I would shoot to be in the 80′s.
The main lesson that I took away from this was that by playing forward, it removed some of the pressure to smash a long drive and allowed me to focus on my shot making and good contact. It proved to be a great experience.
If I were to teach someone to golf today, after the basic fundamentals, I would start them out at 100 yards and as they progressed move them back the fairway in stages to the tee box.