"Having tickets to The Masters is the best dowry a wife could have in the South." Those were the exact words exchanged in a brief conversation I had with a young lady late last week. She's right – as of 2000, there is no direct way to get Masters badges to the tournament. That said, with the tournament coming up next month (April 2-8, 2012) there are some indirect ways to get a hold of tickets and experience the Tournament.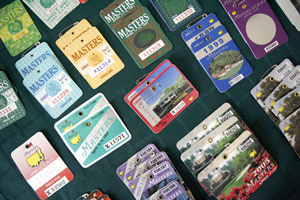 Ten years ago, patrons would get their individual daily badges for Thursday, Friday, Saturday, and Sunday. Most of the badges were used by those who originally go them, however too many were traded, exchanged, and sold online. As a result, members began to crack down on this abuse of the system by adapting to the times.  First, they created a single tournament badge. This cut down on the exchange significantly because if you sold your badge for Thursday it was gone for the rest of the week — unless you knew the person using it and they gave it back to you. Further, if you sold your badge to someone who acted inappropriately on the grounds, their (i.e. your) badges would be taken away and you would not receive another one come this time next year.
So how do you grace one of the game's most hollowed grounds; a place that fosters the sport's greatest traditions by an organization that advocates its finest lessons?
Augusta National Chairman, Billy Payne welcomes every reader of this years official journal by writing:
The Masters Tournament was conceived some 75 years ago in the middle of the Great Depression when Bob Jones and Cliff Roberts had a vision of giving back to the game that had been so good to them. This vision has continued over the years through good times and bad. It is stronger today than ever before, as we move globally to in inspire young people to take up this game, preserve its values and learn its lessons.
The answer: It's not as difficult as it may seem and it is can be done in a manner that would likely be approved by the chairman himself. Remember, I write this with the game's greatest intentions in mind; for younger audiences who may not have the annual opportunity. You know, kind of like moseying near the brush next to Seminole to watch the game's greatest ball striker during a practice session.
Here is a great option. We've already been over that gracing the grounds during the actual tournament is extremely difficult. If you're going to try, find a broker, a credible person on ebay, or a friend. Although, many people argue that the practice rounds are much more enjoyable from a spectator's perspective; this is where I'm fortunate enough to speak from experience. I've had the good fortune to attend The Masters each day it's been held, except for Wednesday. I was there on Sunday in 2001 when Tiger won and many times before and after. I can't tell you which is better right now because each day has its strengths and weaknesses (a later post). However, what's important is making sure every person who wants to experience the vision, legacy, and creation of Bobby Jones, there is a chance.
The practice rounds are much less regulated. There is a raffle one can enter. Actually, if you don't live in the South, you will likely have a greater chance of getting them. Augusta National, rightfully so, wants to make sure that a wide audience has the opportunities to experience the tournament. With this context, there are two simple ways to increase your chances of attending The Masters:
1. Have you and your friends sign up for practice round tickets.
Chances are that one of them will get lucky, especially if its their first time.
2. Make your way to Augusta during the practice rounds and just ask.
I know it might sound crazy and way too simple, but by 10:00 a.m. there are already people leaving the practice round to either go to work, back to the hotel, or off to the course to play. You can tell which people are leaving because they will go and get their phone they checked in earlier. Remember, do not purchase the tickets because even though ticket scalping was legalized by the state in 2001, it is illegal within 1,500 feet of the the grounds — so if you do that, make sure you're in the legal limit. By 11:00 a.m. there are many people already exiting the grounds and all you have to do is ask for their ticket. It's simple. Any true golfer would give their Masters practice round ticket to another fan without hesitation or compensation.
Jon @ atruegolfer.com