Another contender for shot of the year.
Bubba Watson is known for his distance and for his skill with a driver. But at this year's Masters, he became known for his shot shaping.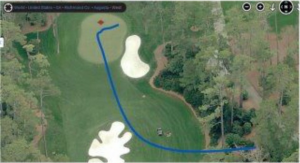 After Watson and Oosthuizen recorded final rounds of 68 and 69, respectively, the two golfers found themselves deadlocked at -10 for the weekend. On 2nd playoff hole against Louis Oosthuizen, Bubba found himself in the trees with no direct shot at the green. What does a 40 yard hook with a 52 degree wedge look like? The picture to the right shows the flight of his ball, to within 5 feet of the hole.
What did the shot look like live? Check out the video below. Amazing.