One of cinema's best golf scenes undoubtedly includes Sean Connery in Goldfinger. I surmise the success of the scene came from the authenticity behind it. In his memoirs, Sean Connery talks about how his love for the game developed while preparing for one of Bond's greatest adventures: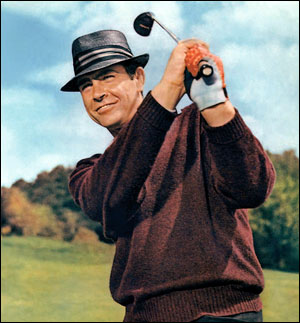 I never had a hankering to play golf, despite growing up in Scotland just down the road from Bruntsfield Links, which is one of the oldest golf courses in the world. It wasn't until I was taught enough golf to look as though I could outwit the accomplished golfer Gert Frobe in Goldfinger that I got the bug. I began to take lessons on a course near Pinewood film studios and was immediately hooked on the game. Soon it would nearly take over my life.
I began to see golf as a metaphor for living, for in golf you are basically on your own, competing against yourself and always trying to do better. If you cheat, you will be the loser, because you are cheating yourself. When Ian Fleming portrayed Auric Goldfinger as a smooth cheater, James Bond had no regrets when he switched his golf balls, since to be cheated is the just reward of the cheater.
Golf course – day Bond spots Goldfinger cheating.
Bond: "You play a Slazenger 1, don't you?"
Goldfinger: "Yes, why?"
Bond: "This is a Slazenger 7."
Bond shows Goldfinger his own golf ball.
Bond: "Here's my Penfold Hearts. You must have played the wrong ball somewhere on the 18th fairway. We are playing strict rules, so I'm afraid you lose the hole and the match."
Along with his developed passion for the game, here is golf commentator Jim Nantz talking about an etiquette lesson learned by Sean Connery the hard way at Pine Valley (where he is also currently a member).
Jon @ atruegolfer.com