Continuing with our series on "Costliest Rulings in Golf", here is #4 on the list. If you haven't followed our other posts in this series click here.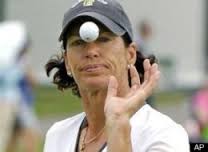 Juli Inkster is a legend on the LPGA Tour, with a professional career spanning 29 years to date and 31 LPGA tour wins under her belt.
It's true that when legends violate a rule it gets more attention – that was the case with this "Hall of Famer" who was three strokes off the lead at the end of the 2nd round at the 2010 Safeway Classic.
During a lengthy wait at the 10th tee, Inkster affixed a weighted donut to her 9-iron and took some practice swings to stay loose. It was a clear violation, but went unnoticed until an email was set to the LPGA by a television viewer. Unfortunately it is illegal to use a training aid during play amd Inkster was disqualified by officials once she was back in the clubhouse.
She later said, "It had no effect on my game whatsoever, but it is what it is. I'm very disappointed."
For your reference, here is what the rule 14-3/10 says:
14-3/10 Use of Training or Swing Aid During Round

Q. During a round, may a player make a stroke or a practice swing using a club with a weighted headcover or "donut" on it, or use any other device designed as a training or swing aid?
A. No. The player would be using an artificial device to assist him in his play in breach of Rule 14-3, but see also Decision 4-4a/7 for use of a weighted training club.