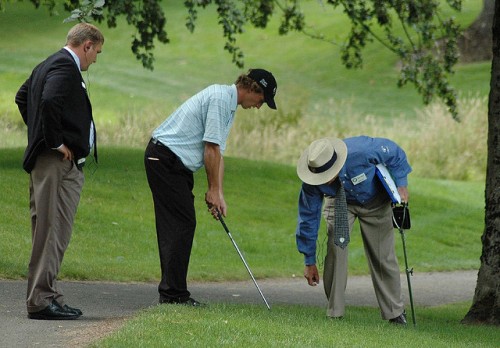 Earlier this year, the NY Times has posted an interesting article on PGA Tour rules officials. It discusses some interesting aspects of a largely thankless job, including the hot button issue of slow play:
"When we're trying to get 156 players this week, which means there is going to be 26 groups on 18 holes," White said. "You're going to wait. Play is going to be slow. Those are the facts. People say we aren't doing our job?"

Cracked Mickey Bradley, who was riding in White's cart: "Twenty-six groups on 18 holes? That's an eight-pound ham in a five-pound can.
I guess these guys don't ever play at public golf courses. 26 groups on 18 holes? I think I hear the worlds tiniest violin. Try 36+ groups at any public course around the country on Saturday morning and see if you still think 5+ hours for 2-3 professionals to play 18 holes is an acceptable pace of play.
Of course, tour officials do walk away with some great stories:
One rules official described an exchange several years ago between another official, since retired, who was asked by a player who had just been fined for uttering an obscenity, "Can I be fined for what I'm thinking?" The official said no. The player quickly replied, "Good, then I think you are a no-good" and he finished his sentence with an obscenity. He was fined again.
Derek Franks is a guest blogger at the Scratch Pad. For more posts visit his blog 72strokes.com.