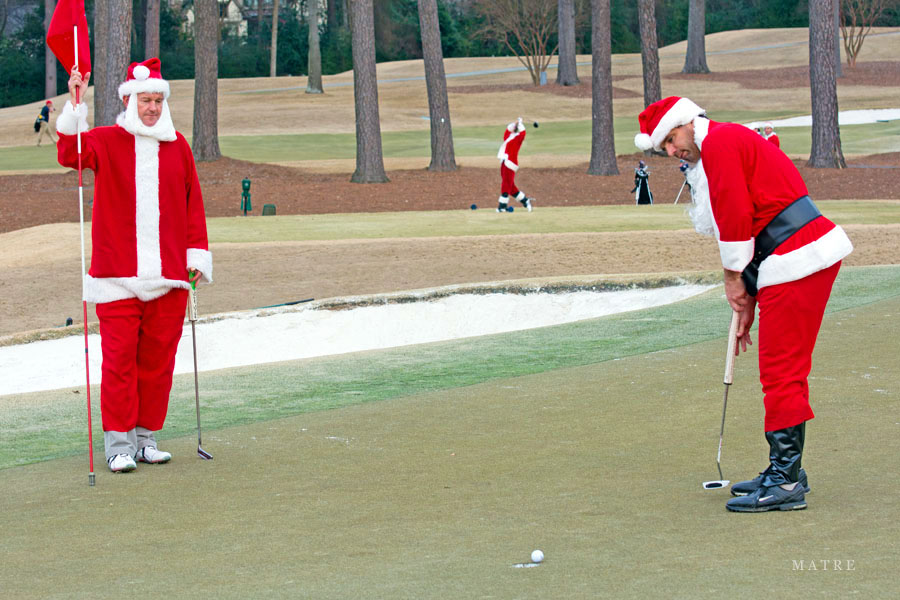 Robert Matre's passion for photography was born on a golf course, when he took his camera to a practice round for the WGC- American Express Championship in Atlanta in the Fall of 2003.  Over the past ten years, he has photographed over 50 tournaments, including eight consecutive U.S. Opens from 2004 – 2011. To see more of his work click here, and prepare to be mesmerized.
We all know how some of the golf rules are a bit complicated – our Costliest Rulings in Golf series covers some of these instances. But way back in 1744, when the original Rules of Golf issued by the Honorable Company of Edinburgh Golfers, it was much simpler – just 13 rules vs the 182 pages rule we have today.
Here are those 13 golden rules for our Scratchpad members – you'll be surprised to find how many are still in play today.
1. You must tee your ball within a club's length of the hole.
2. Your tee must be on the ground. (Note that Tees back in these days, consisted of little pyramids of sand)
3. You are not to change the ball which you strike off the tee.
4. You are not to remove stones, bones or any break club for the sake of playing your ball, except upon the fair green, and that only within a club's length of the ball.
5. If your ball comes among watter, or any wattery filth, you are at liberty to take out your ball and bringing it behind the hazard and teeing it, you may play it with any club and allow your adversary a stroke for so getting out your ball.
6. If your balls be found anywhere touching one another you are to lift the first ball till you play the last.
7. At holling you are to play your ball honestly at the hole, and not to play upon your adversary's ball, not lying in your way to the hole.
8. If you should lose your ball, by its being taken up, or any other way, you are to go back to the spot where you struck last and drop another ball and allow your adversary a stroke for the misfortune.
9. No man at holling his ball is to be allowed to mark his way to the hole with his club or anything else.
10. If a ball be stopp'd by any person, horse, dog, or any thing else, the ball so stopp'd must be played where it lyes.
11. If you draw your club in order to strike and proceed so far in the stroke as to be bringing down your club, if then your club should break in any way, it is to be accounted a stroke.
12. He whose ball lyes farthest from the hole is obliged to play first.
13. Neither trench, ditch, or dyke made for the preservation of the links, nor the Scholars' Holes or the soldiers' lines shall be accounted a hazard but the ball is to be taken out, teed and play'd with any iron club.
It's true that anything small in sports can be branded. In Golf, tee markers are no exceptions. But this form of advertising is cute and not annoying – go through the below list of some interesting tee markers we came across.
Murray Irwin "Moe" Norman was a legend. He was arguably one of the best ball strikers ever.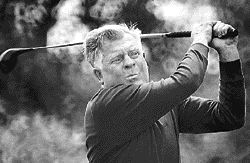 His accuracy and ability to hit shot after shot perfectly straight gave him the nickname "Pipeline Moe". But it is unfortunate that many don't even have heard of him, probably because of a short career. He turned professional in 1957 but played just 27 PGA tour before returning to play in Canada after a bitter experience with the officials. But nothing can take away the serious talent he possessed and we'll never know what he might have achieved if he had a longer career.
He won 55 Canadian Tour events, had 33 course records, and 17 hole-in-one's. Yes you read that right – 17 hole-in-one's! 59 is considered to be the magic score in golf – well, he did that too, not once but thrice!
In January 1995, Titleist decided to pay Moe $5,000 per month for nothing more than his unique contribution to the game of golf.  Moe passed away September 4, 2004 at the age of 74.
Watch this below video (or Click here) on Moe Norman. Truly inspirational!
Watch this below video (or click here) of Rory McIlroy having a perfect swing with his teeny weeny delicate hands. Truly amazing for a 3 year old!
Cool Fedex Cup Infographic –

Produced by Aford Awards a UK manufacturer of golf trophies as well as other glass sports trophies.
For those of you who follow our blog, one of our guest posters is Shawn Augustson, a student at the College of Golf and writes the blog Golf with Shawn and has shared with us some of his recent lessons. Here is one such post for the benefit of MyScorecard members.
We have many different reasons why we like to golf. Some find it as a way to relax, others enjoy the challenge… but the common denominator is that we all find it fun. This leads me to the question that if we want to have fun, why do we set ourselves up for failure at the first tee?
I have friends who like to stretch the course out and play as far back as they can. "I want to get my money's worth and see the entire course", is what I have heard time and time again.
The simple reality is this. They do not have the skill set to play from the distances they "feel" they need to play at. They start off with high hopes but after a few holes there is a lot of complaining, self-doubt, and threatening to quit the game forever.
This could all have been avoided and they could have had much more fun had they moved up to a tee that was more comparable to their game.
We need to change our mindset and play the game where we can score and have fun. When I was attending the College of Golf, Dr. Wilson, PGA Master Professional, and Director of Golf would challenge us to play from the first set off tees. "If you can shoot par or better there, then move back one set until you shoot par or better from there, etc." he would say to us.
The Tee It Forward program has a really good yardage recommendation based of the players average drive distance:
| | |
| --- | --- |
| Driver Distance | Recommended 18-Hole Yardages |
| 275 | 6,700-6,900 |
| 250 | 6,200-6,400 |
| 225 | 5,800-6,000 |
| 200 | 5,200-5,400 |
| 175 | 4,400-4,600 |
| 150 | 3,500-3,700 |
If you are finding that the game of golf is becoming frustrating, my challenge for you is this… with your next round of golf, move up one set of tees from where you normally play from. Move it forward and have fun. See you on the tee at Westchester Golf Course!
Continuing with our series from the The Itinerant Golfer's quest to play all top 100 American golf courses, The Scratch Pad is glad to bring you a profile of the 15th in the list – Chicago Golf Club.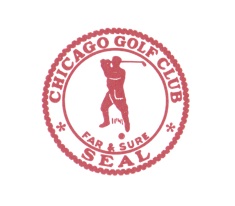 Architect: C.B. MacDonald / Seth Raynor
Year: 1894 / 1923
25W253 Warrenville Road
Wheaton, Illinois 60189
(630) 665-2988
- Course Access: Private
- Driving range available
- Motorized golf carts and caddies available
- On-site accommodations
- U.S. Open – 1897, 1900, 1911
So why is the Chicago Golf Club one of the most important clubs in America you ask? Where shall we start? Lets see, for starters it was the first 18 hole golf course in North America and the club that established the modern Out of Bounds rule. Next, you have that the club was founded by the first US Amateur champion and de facto father of American golf, Mr. Charles Blair Macdonald. If any more evidence of the clubs importance were necessary, you can make note that Chicago Golf Club is one of the original five clubs that founded the USGA in 1894. If you're looking for a place that has had a profound impact on golf in America, look no further than Wheaton, Illinois and the Chicago Golf Club.
And why has the golfing public at large never heard of this clearly significant and important club? Well, there are just 125 members and a great many of them play their primary golf at other clubs in the area. This results in very, very little play at Chicago Golf Club. The lack of play also means that guest invites are terribly rare, and truly something to be cherished by the lucky golfers who receive one. When I started the Top 100 quest back in 2007 I identified Chicago Golf Club as one of the five courses that may keep me from completing the quest. Everything I learned over the next three years confirmed that my fears were indeed well founded. In short, getting a chance to play Chicago Golf Club may be as likely as getting struck by lightning.
When the day arrived and I pulled into the driveway at Chicago Golf Club I was pretty excited. After parking my car I went into the locker room to change my shoes and have a look around. The first thing I noticed in the locker room were the cool subway tiled walls which were very popular in the late 1800s/early 1900s and the old metal lockers found at many of the great clubs from this era. I love a locker room with a vintage vibe so I had a good feeling about this place immediately. As would be expected the walls were adorned with golf memorabilia from the club's history including one of the five original signed documents incorporating the USGA. It was pretty neat to see this important golf document and C.B. Macdonald's bold signature in the flesh.
Before we tee off so to speak, I'll give a very brief history of the course itself. Chicago Golf Club was founded in 1892 and at the time was located in Downers Grove, Illinois on Belmont Avenue. In early 1894 the club moved to the current location and C.B. Macdonald laid out the first 18 hole golf course in the United States. As years went by Macdonald felt that the technology of the game was advancing beyond the golf course he had created and it was necessary to redesign the course. He requested his protegee, Seth Raynor, do the work and in 1923 a new course was born. Raynor's revisions and changes along with a handful of Macdonald's original holes is the course that remains today.
As we prepared to start our game and discussed the tee selection there was not really much of a decision necessary as far as I was concerned. The back tees played 6,846 yards which on a par 70 course is a pretty serious test. We elected for the considerably more manageable 6,571 yard white tees.
The 1st hole is a 450 yard par 4 and is absolutely not your typical warm up starting hole. The golfer needs to be at ready from the start when teeing it up here. The photo below was taken from the tee and the best line of play is up the right side of the hole as the fairway falls off to the left.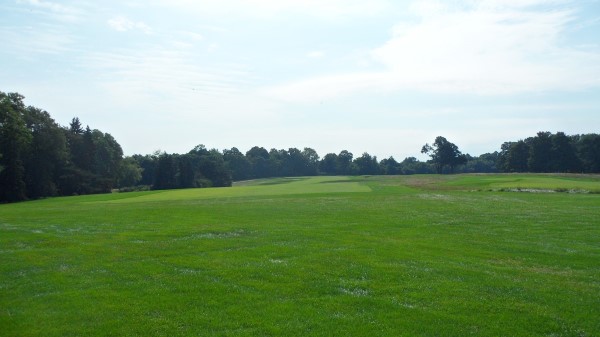 The photo below is where I hit my approach shot from (the rough of course). I was still a good 200 yards out.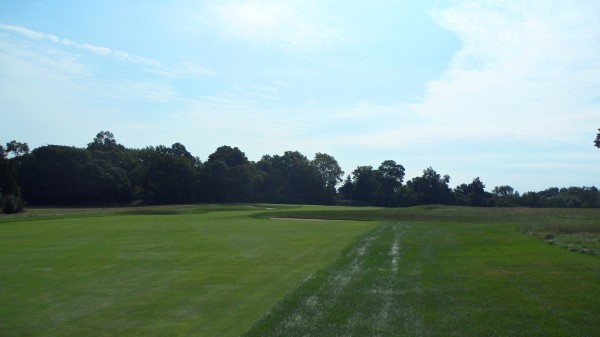 The 2nd hole, pictured below, is Raynor's version of the Road Hole at St. Andrews. This one plays 440 yards from the white tees. Anything in the middle is just great here. The approach shot will be another long one.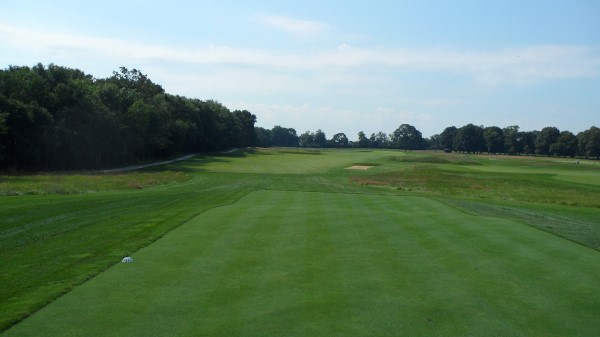 The photo below is of the approach shot on the 2nd hole. Note the Road Hole bunker at the front left.
Read the rest of this entry »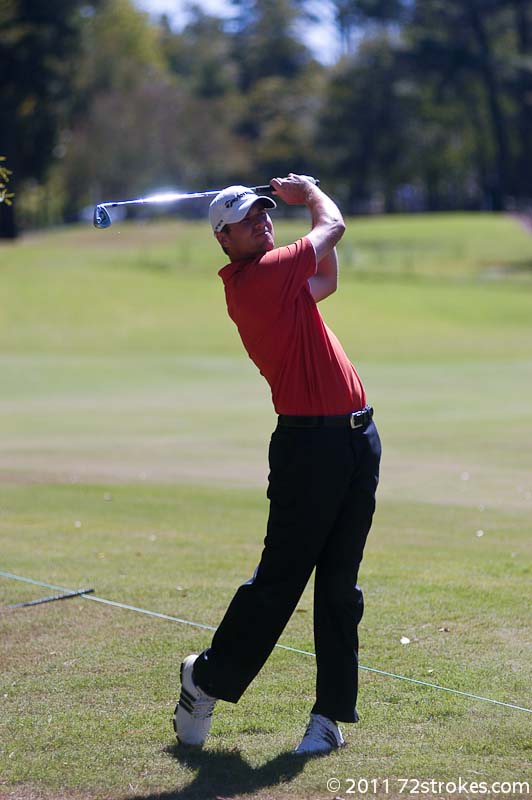 During the 2010 final round of the AT&T National, Sean O'Hair, hit a wayward drive on the 18th tee and nailed spectator Chris Logan the temple. Normally that's not a good thing, but getting hit in the head ended up saving Chris's life.
It turns out that when checking Chris for a concussion doctors noticed a lump in his throat that turned out to be Thyroid Cancer. Luckily it was caught early and Chris is now cancer-free.
Because of the concern of a head injury, the tournament medics rushed him away and Chris never actually got to meet Sean after getting hit. However in the mid 2011, he was finally able to meet Sean in person and thank him for hitting him in the head and saving his life.
I'm guessing that's probably the first (and last) time O'Hair will get thanked for hitting somebody in the head with a drive.
Derek @ 72strokes.com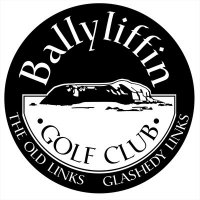 Ballyliffin club, founded in the year 1947 is Ireland's most 'northerly' golf club. Located in the extreme north-east of the Republic of Ireland close to the Inishowen Peninsula, Ballyliffin comprises of 365 acres of spectacular dune land which is surrounded by hills and mountains with the only borderline being the Atlantic Ocean.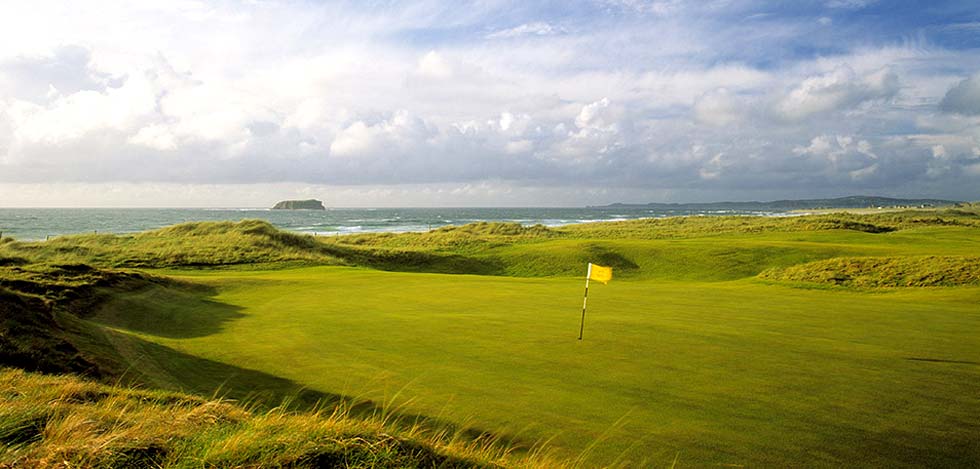 Two outstanding and distinct 18 holes link – the classic Old Links and the wonderful new Glashedy Links, a world-class club house, and an unprecedented panoramic view of mountains and coastline make up Ballyliffin Golf Club a stunning and an amazing destination to sport. The Old acreage is designed by Mother Nature herself with little succor from Eddie Hackett and English architects – Lawrie and Pennick, who offered a final touch to the course.
The Old Links undulate in a natural setting that provides a sense of tranquility, presenting an immensely enjoyable challenge to every golfer. Running across 6,937 yards from the championship tee and a par of 71 with sweeping ocean views, the old links offer many fantastic holes with challenging fairways riding dangers at every turn. Upon his first visit to Ballyliffin in the 1990s, Faldo reportedly fell so in love with the Old Links that he stayed overnight to finish playing all 18 holes and attempted to buy the club which was later turned down. But nevertheless his work at the Old Links clearly showcases his attachment to the place. Faldo renovated all the bunkers and repositioned several tees, allowing for more awe-inspiring views of the Glashedy Rock off the coast.
The Old Course at Ballyliffin is the most natural course I have ever played."

- Nick Faldo
Glashedy measures over 7,000 yards from the Championship tees with large undulating greens, deep bunkers and fairways that twist and roll between towering dunes. The challenges presented by the Glashedy Links are almost as intimidating as exciting. Many regard the Old Course as 'better' than the newer Glashedy course and this is because, without doubt, Glashedy is a severely punishing golf test that demands you to be on top of your game from start to finish. But nevertheless both these wonderful courses  guarantees a lifetime experience for any golf lover, especially to a keen golfer who appreciates beautiful views and challenging courses.