Feeling bad about weather and not being able to play golf? Here are a few tricks from Vine user PJCarmichael which you can try at your home.
There are a log more tricks on his page – check them out!
Green speed is a major factor in putting. No wonder turf managers and golf architects spend a lot of time focused on the putting surface to make the conditions perfect for golfing. There are a lot of ingredients behind a good green – smoothness, firmness, and uniformity, to name few.
The device that measures green speedsis called a stimpmeter. Basically, it measures the distance a golf ball rolls (in feet) from applying a known force. (a.k.a BRD – Ball Roll Distance). It looks like a little roller coaster – put the ball at the top, and see how far it rolls across the green.

"Stimpmeter"  is named after its inventor, Edward Stimpson. Stimpson invented it in 1935, after watching golfers who were flummoxed by the speed of the greens during the 1935 U.S. Open at Oakmont Country Club. The device wasn't used in an official way by the USGA until 1976
Here is a table that USGA uses to classify the green speed on a course.
| Category | Membership Play | Championship Play |
| --- | --- | --- |
| Fast | 8′ 6″ | 10′ 6″ |
| Medium Fast | 7′ 6″ | 9′ 6″ |
| Medium | 6′ 6″ | 8′ 6″ |
| Medium Slow | 5′ 6″ | 7′ 6″ |
| Slow | 4′ 6″ | 6′ 6″ |
Green Speed Chart – USGA
While fun to play, speedy greens can be pretty devastating. A perfect example is the greens at Oakmont Country Club, where the Stimpmeter was originally invented. With stimpmeter readings consistently around 14-15 feet, no wonder the winning score was 5 above par at the 2007 Open.
To see how truly fast greens can impact your putting, watch this crazy 3-foot putt (or click here to view) below.
So, what type of green you prefer?
We at the Scratch Pad are big fans of the Priceonomics blog – a great source for well-written articles about data, economics, and business. They recently tackled the notion of golf courses per capita, and we were excited to share their post.
When this author moved to San Francisco, he was surprised to stumble on multiple golf courses. First a jog revealed the Golden Gate Park Golf Course. Bike rides along the Pacific coast led to the discovery of several more. Internet searches produced a final tally: nine courses in the city plus one more outside city limits that is under the city's jurisdiction.
San Francisco's golf courses are not located in the middle of downtown, but their existence remains jarring. The gold rush created San Francisco, but now the land itself is a treasure. The city is home to the country's most expensive real estate market. Developers have started building "micro-apartments" to meet the insatiable demand for housing; in contrast, golf is a greedy hoarder of land. Eighteen hole golf courses occupy 100-200 acres and host a daily maximum of 200 to 400 golfers. At San Francisco's current level of population density — which is low compared to cities like Manila and Mumbai but the highest of any major American city after New York — one hundred acres could provide housing for over 2,600 people.
Count is not perfect as some clubs may have multiple courses, and some courses are only 9 or 12 holes. As cities vary by size and density, this count is not the final word on an urban golf index. Help check our count by looking at the source data here.
Yet San Francisco is not exceptional. As the above chart shows, all of America's large, densely populated cities have a significant number of golf courses. And if one includes courses just outside city limits in areas that are home to significant numbers of people who work and socialize in those cities, the number rises significantly. At a time when America's wealthiest and most dynamic cities are so starved for space that low income residents are being pushed out, why are these cities home to so many golf courses?
Don't Blame the Monopoly Man
This author's look at how golf courses became prevalent in San Francisco, where Priceonomics is located, revealed a few answers — none of them shady deals that gave land to golf course developers instead of subsidized housing.
One simple reason for the prevalence of golf courses in such a dense city is simple inertia. Only two San Francisco golf courses were built after World War II; the rest were all originally constructed in the 19th or early 20th century in parts of San Francisco still being developed out of sand dunes. In 1895, for example, civilians received permission from the military to build the Presidio Golf Course on what was then an isolated military base. When two private clubs bought land for golf courses around Lake Merced in the 1920s, San Francisco's population was 500,000 (compared to 825,000 today) and the lake mostly farmland and coastal military installations.
But the key to understanding San Francisco's abundance of golf courses is noting that of its nine golf courses and clubs, the majority are public. The Recreation and Parks Department manages five courses (plus one more in nearby Pacifica), and while the Presidio Golf Club is private, it is located on public land and is open to the public.
So, San Francisco is not full of golf courses because made men shell out to play golf on America's most valuable real estate. (After all, wealthy San Franciscans have nice cars they can drive to other courses.) Rather, San Francisco is full of golf courses because the city decided to devote green space to golf. As a result, playing 18 holes a few miles from downtown is relatively affordable; prices at the city's public courses range from $22 to $66 for a resident. Writing about a group playing 18 holes at one public golf course, an SF Weekly journalist describes them as "a semiretired bookkeeper who plays in a blues band… a retired Oakland International Airport manager, and a construction foreman."
A public affairs official at the Parks Department did not return our request for comment at the time of publication, but we can deduce a few reasons why San Francisco manages so many golf courses.
One is that golfers are a large and particularly vocal group. Before Parks and Rec makes any changes to a park, it seeks public comment. A 2008 report on San Francisco's public golf courses estimated the number of city resident golfers at 81,050 (pdf), and those golfers seem to follow a national trend in which golfers have higher-than-average incomes and therefore more often mobilize to protect their interests. When the city hosted debate over changes to its golf courses in 2008, a blog post urged soccer players to attend meetings and demand more fields noting, "Only two people from our large and growing soccer community have attended the past meetings, while 80+ golfers made their voices heard." This is especially true when wealthy families live across from a golf course and don't take kindly to the idea of a neighboring course turning into a soccer field or events center.
Although we did not track down evidence of this as a motivating factor in San Francisco, one factor that has historically led towns and cities to build public golf courses is to generate revenue. In Landscape Architecture Magazine, Peter Harnik and Ryan Donahue write that golfing advocates could argue that golf courses were "a worthwhile public investment that subsidized a system's other parks through green fees." People can't picnic or jog through public golf courses like they would other urban, green spaces; building golf courses in city parks essentially allows cash-constrained cities to cheat by building cash generating businesses and classifying it as public green space. Or, more generously, courses support the system by generating revenue for parks that everyone can use.
The $3 Million Golf Subsidy
The only problem is that for years, especially in San Francisco, public golf courses have drained the city's coffers rather than replenished them. The aforementioned study, conducted by a consulting company hired by the city in response to criticism, noted that the city subsidized golf by $1.5 million a year. That was in 2008, and without policy changes, the report estimated that subsidy to increase to $3 million. It's unclear whether that $3 million understates the subsidy by failing to include multimillion dollar course renovations.
San Francisco's courses face the same problems that have hit golf courses across the country. In step with the real estate boom, America saw a surge of interest in golf and the building of many new courses. Between the recession and a bubble created by too much enthusiasm in the financial prospects of golf clubs, however, many courses aren't getting that many golfers. As of 2008, only one of the courses managed by SF Park and Rec operated over 50% capacity. Public courses across the country are similarly under capacity and losingmoney.
The consultants' report concluded that San Francisco's public golf courses are poorly managed (they operate under several management models, but most are publicly run), and that they could earn the city money if leased to private management under 10-15 year contracts. Some local press responded that similar outsourcing arrangements failed to significantly increase profits when tried elsewhere; others dislike that private management would fire the current public employees and hire seasonal workers at lower wages. Most problematic is the fact that the report imagines private management investing millions to improve the courses so that they can compete with private ones. Large renovations would be funded with higher rates, which would make the courses expensive to use and a truly inaccessible part of the park system.
Should We Care?
San Francisco's golf courses occupy over 700 acres of land, which equates to more than 2% of the real estate in a city with a high-profile anti-eviction and anti-gentrification movement where the building of any new building is bitterly contested.
But the city's public golf courses could not be swapped out for condos or subsidized housing. Despite the seeming incongruence, San Francisco's golf courses, which are mostly public and located in city parks, seem more relevant to battles over the use of green space than gentrification battles. The courses' opponents are joggers, community gardeners, and soccer parents who want to transform public golf courses into jogging paths, vegetable patches, and playing fields.
To the extent that the surprising prevalence of golf courses in San Francisco has relevance to the city's debates over gentrification, it's likely as a reminder that the city's small, constrained size — a commonly cited culprit for high rent prices — is not to blame. If San Francisco had the same population density as Manhattan, it could be home to around 3 million residents instead of its current 800,000. But in order to protect San Francisco from change, its residents have consistently voted for zoning laws that prevent developers from building taller commercial and residential buildings — even downtown. Similarly, a great public transport system could allow people to enjoy San Francisco's employment opportunities and cultural capital while living outside the city limits, but the Bay Area Transport system has not "had a significant upgrade in San Francisco since 1976."
All the rage over San Francisco's rent prices and gentrification has failed to notice that 2% of its real estate is taken up by golf courses. That could be an oversight, but more likely it's a fact that calls attention to what really matters in making the city more affordable.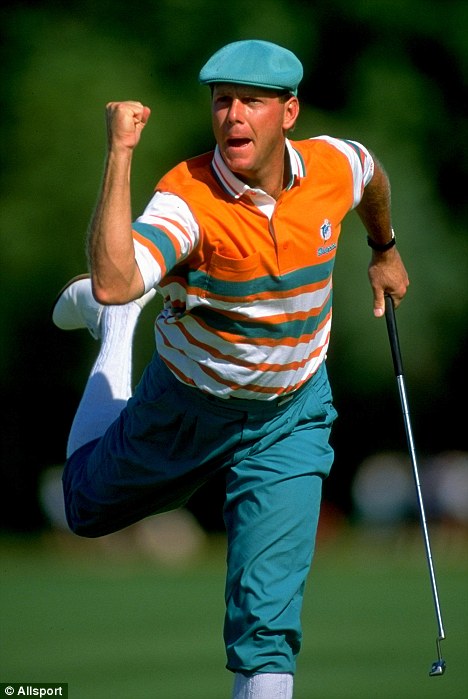 Sometimes it seems that time passes by so quickly. It's hard to believe that today marks the 15th anniversary of the passing of one of golf's most memorable players.
Payne Stewart won 11 times on the PGA TOUR and was a 3-time major championship winner. He did it with flair, grace and won pretty much every fan over in the process. He was a gentleman who played the game right, but also had a great intensity about him that showed what kind of competitor he was. On Oct. 25, 1999, Stewart tragically died in a plane crash when the cabin lost pressure. All on board died of hypoxia — a condition in which the body or a region of the body is deprived of adequate oxygen supply.
I still remember when I heard the news from a co-worker. It seemed almost surreal. I didn't believe him at first and thought it was some type of sick joke. I had just seen Stewart at the Ryder Cup in Brookline a few weeks earlier and watched on as he celebrated their improbable comeback along with his US teammates.
A lot of great golfing moments have happened since his passing at a way too young age of 42. But Payne helped to provide quite a lot of memories himself will live on in golf history.
There are plenty of golf videos on YouTube, which makes it hard to hand pick the best ones. Our goal at the Scratch Pad is to comb through and find the best ones to share with you. Here are our first two picks of the best golf videos rolling in from the web every week.
So close yet so far away – missed hole in one by this much
Adorable just got taken to a new level.
Ever wonder what golf sales clerks do when store traffic is slow? Watch this video (or click here) to see what you can do when you work in a golf shop and have some extra time on your hands. This definitely needs incredible amount of concentration and practice.
Tommy Morrisey was born with one arm due to a blood clot. At just 3 years old, this little prodigy has a swing better than most of us. Watch this below video (or click here) of Tommy smacking the golf ball over 100 yards – a great piece of inspiration!
They say golf swing power is the result of three specific factors. The first 2 are more important than the third. Those three factors are: swing mechanics, golf strength (your fitness), and golf equipment. Here is the best example video we could get – Rory McIlroy getting all the 3 right. Watch this monstrous drive carrying the ball to 436 yards. It nearly missed Ian Poulter who was in the group putting on the green at the time.
McIlroy apologised to Poulter for nearly hitting them once he reached the green, and cheekily told him: 'I only hit a three-wood'.
Watch this amazing shot off the road from Charl Schwartzel (click here), the 29-year-old former Masters champion, at the par-4 16th hole at the 2014 Volvo Golf Champions, Durban Country Club in South Africa. With approximately 150 yards to a hole with no clear path, it was a bold move by Schwartzel  to draw off the concrete rather than playing it safe. The blind shot flew over the trees nearly went right into the cup making it one of the best recovery shot we have ever seen.
Rory McIlroy found himself in an odd moment during the second round of the 2014 Tour Championship last Friday.
Teeing off at the 14th, Rory's ball bounced off a tree and went right into a spectator's pocket. The spectator was asked not to move while Rory and an official made their way to him to decide how to properly play the ball. Rory took a drop and made a par there. Here is the video (or click here) of this funny moment if you missed it: