Archive for the '72 strokes' Category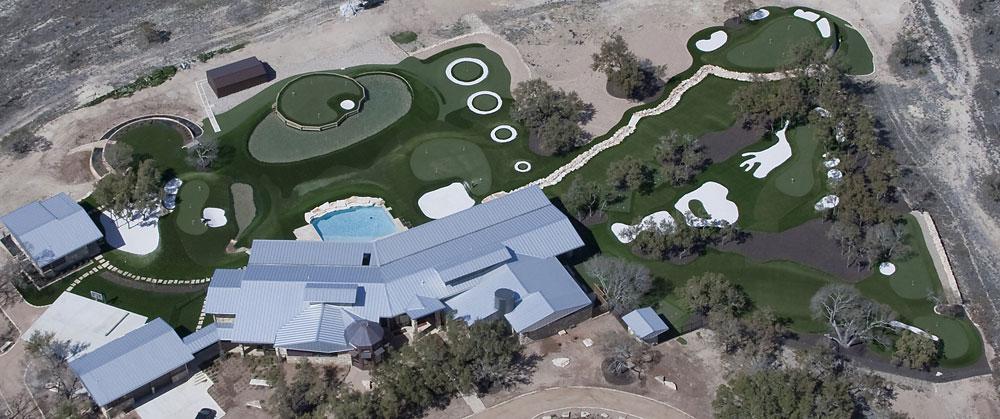 I think I would have the same backyard as Dave Pelz if I won the lottery. His backyard practice facility is just ridiculous. He's replicated a number of famous greens including the island 17th from TPC Sawgrass. My first thought was that he must have an insane water and lawn care bill each month. But don't worry, the greens are made of SynLawn synthetic turf and consequently don't have to be watered or mowed, providing a perfect low-maintenance practice area year round.
Derek @ 72strokes.com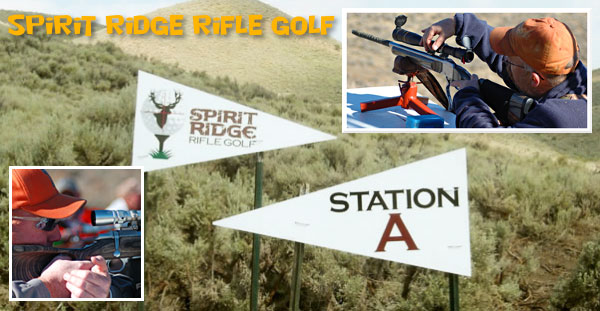 They play a different kind of golf in Utah:  Rifle Golf.  Founded in 2005, Spirit Ridge Rifle Golf is the only shooting range of its kind in the world.  The course consists of 9 "holes" over a 7 mile course set on 10,000 acres.  You'll have the opportunity to take shots from 175 to 1200 yards on 30 different targets.
For only $50 (plus $35 to rent an ATV) you can test your shooting game at Spirit Ridge Rifle Golf.  And don't piss off the cart girl… she's probably packin'.

Derek @ 72Strokes.com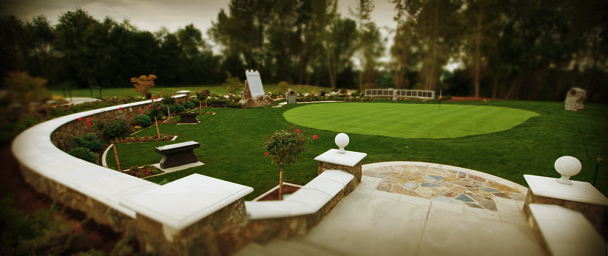 This one is a bit over the top. If you're a die hard golfer near Bellvue, WA, you can now spend eternity buried in a bunker at the Sunset Hills Memorial Golf Park.
Yes, you read that correctly. Sunset Hills has built a replica golf course/cemetery. This gives new meaning to being "dead" in a hazard. Be warned though, sand traps are reserved for cremated remains only.
The course will naturally feature a leaderboard where your name will be listed if you've reserved a "future tee time." I guess you're winning if you're still upright?
Derek @ 72strokes.com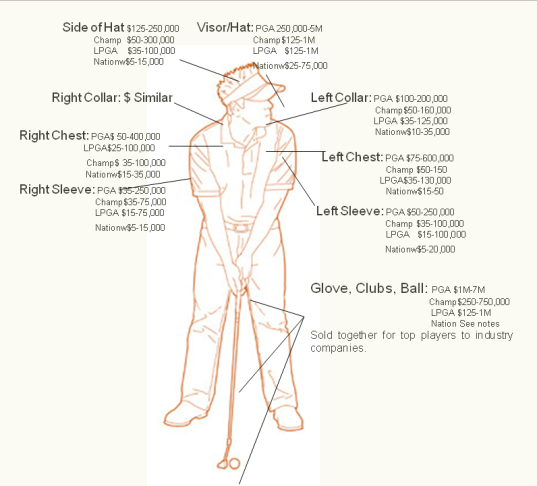 The answer is that it varies, but this info-graphic from CCA sheds a little bit of light on how lucrative professional golf endorsements can be. It seems interesting that Champions Tour players out-earn LPGA'ers. And of course they're all dwarfed by the money tree that is the PGA Tour.
Derek @ 72strokes.com
As part of the hoopla surrounding the US Open, Red Bull created a man made 106-yard golf hole in the middle of the Georgetown Waterfront.
They brought in Red Bull athlete Rickie Fowler to give it a go.  Fowler had to hit a blind shot from an elevated tee box, between buildings, over a fountain, and into an island green placed in another fountain.  It took him a few tries, but on his 3rd attempt, he dunked it.
Derek @ 72 strokes.com
In honor of the HP Byron Nelson Championship, I thought I would post a quick primer on Byron Nelson, one of the greatest golfers to ever walk the fairways of the PGA Tour.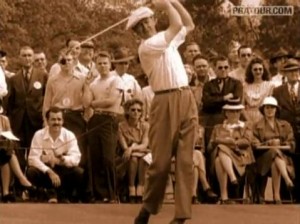 In 1945, Byron Nelson won 18 of 35 PGA Tour events (and finished 2nd seven times), including an 11 tournament win-streak. It's a record that's as unlikely to ever be matched or beaten as anything else in sports.
And while it receives less attention, Byron Nelson's streak of 113 "cuts made" is second only to Tiger's 145. The difference is that in Nelson's era only the top 20 in a tournament received a check, which the current record books define as a "cut made". So in reality, Nelson finished in the top 20 113 times in a row. Read the rest of this entry »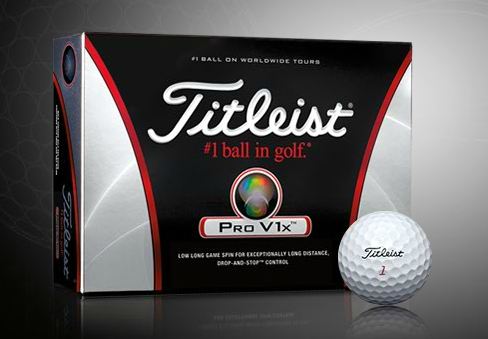 Titleist had yet another big year on Tour, including wins at the US Open (McIlroy), Tour Championship (Haas).  But while they may dwarf everybody else on tour, other brands picked up some big wins as well.  In particular I hadn't realized that Taylormade  snagged 5 wins with the Penta this year:
1. Titleist Pro V1x – 21 wins
2. Titleist Pro v1 – 6 wins
3. Tayormade Penta – 5 wins
4. Nike One Tour D – 3 wins
5.  Callaway Tour i(z) – 2 wins
6. Srixon Z-Star XV – 2 wins
7. Bridgestone B330s – 1 win
How does your favorite golf ball stack up? Can anybody make a dent in Titleist's numbers for 2012?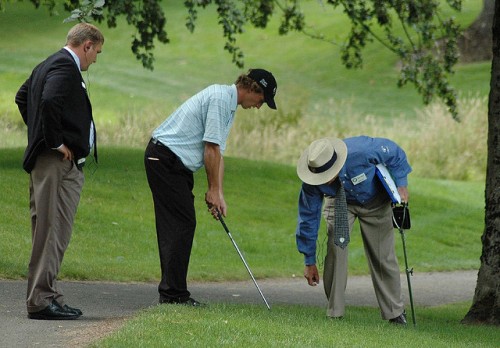 Earlier this year, the NY Times has posted an interesting article on PGA Tour rules officials. It discusses some interesting aspects of a largely thankless job, including the hot button issue of slow play:
"When we're trying to get 156 players this week, which means there is going to be 26 groups on 18 holes," White said. "You're going to wait. Play is going to be slow. Those are the facts. People say we aren't doing our job?"

Cracked Mickey Bradley, who was riding in White's cart: "Twenty-six groups on 18 holes? That's an eight-pound ham in a five-pound can.
I guess these guys don't ever play at public golf courses. 26 groups on 18 holes? I think I hear the worlds tiniest violin. Try 36+ groups at any public course around the country on Saturday morning and see if you still think 5+ hours for 2-3 professionals to play 18 holes is an acceptable pace of play.
Of course, tour officials do walk away with some great stories:
One rules official described an exchange several years ago between another official, since retired, who was asked by a player who had just been fined for uttering an obscenity, "Can I be fined for what I'm thinking?" The official said no. The player quickly replied, "Good, then I think you are a no-good" and he finished his sentence with an obscenity. He was fined again.
Derek Franks is a guest blogger at the Scratch Pad. For more posts visit his blog 72strokes.com.