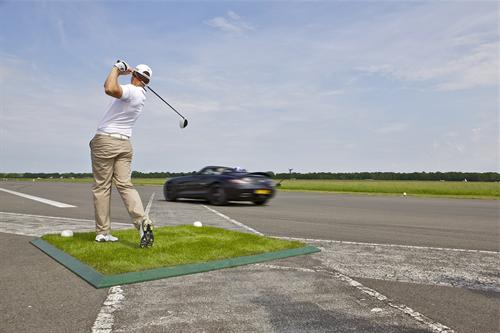 Some world records are more unusual than the rest. Here is one such effort made by Mercedes together with ex-Formula 1 star David Coulthard and pro-golfer Jake Shepherd – the furthest golf tee shot caught in a moving car.
This stunning attempt involving 571-hp Mercedes SLS AMG Roadster took place at the Dunsfold Aerodrome in Surrey, England, the same place where Top Gear is filmed. After the failed initial try, Jake struck neatly and the ball clocked at up to 178 mph during its trajectory which enabled it to travel 275 meters (902 feet) before it landed into the open cabin of the perfectly steered Mercedes by Legendary Coulthard.
"The only way to track the ball was to keep your eyes on it all the time," Coulthard said. "It's a real adrenaline rush but it's not the most comfortable thing to do because for a moment, you're not watching the road!" he adds.
The amazing feat was witnessed and judged independently by a Guinness World Record adjudicator who later confirmed the unbelievable achievement by giving the title of farthest golf shot caught in a moving car.
Well, if you want to try this out yourself, you will have to shell out £168,425 (~$273,000) for this powerful machine, but do keep in mind, the speeding ball may well damage your car, or the worst case, your face!