I've just piped a drive, and now I'm facing a short iron to a green with a large bunker protecting a front pin. My trusty range-finder gives me exactly 150 yards to the flag. It's a simple calculation from here, right? 8-iron is my 150 club. No problem.
Five minutes later, I'm awkwardly situated under the lip of that front bunker, trying my best to remember the "how to advance the ball from a plugged lie" tip I read last week in Golf Digest.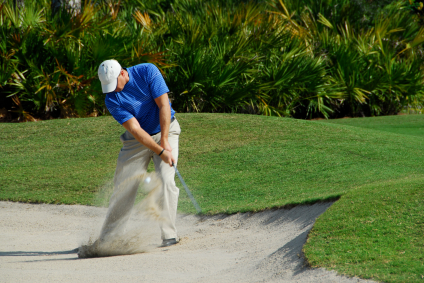 Sound familiar? In any given round of golf, how many of your approach shots end up short of the green? Count the next time you play. You will likely be shocked at what you find.
For most of us, the source of the problem lies not in the swing we make but in the decisions we make prior to the swing. This should come as good news, as making better decisions is a lot easier than making better swings, especially for the average weekend warrior. So, let's try this again. Continue reading "The Right Club"