Posts Tagged 'pro golfers'
Watch this below video (or click here) of Rory McIlroy having a perfect swing with his teeny weeny delicate hands. Truly amazing for a 3 year old!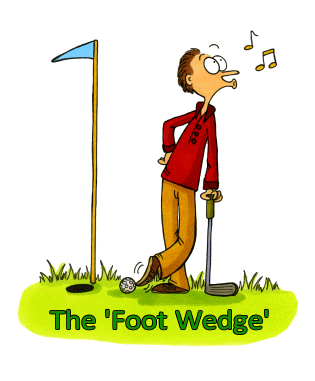 To hear John Huggan tell it, it's pretty common:
You may not want to hear this, but golf at every level is rife with cheating. Well, OK, rife may be too strong a word. But it's out there, at every level of the game up to and including the professional level, where the temptation to transgress is obviously increased by the often huge financial rewards available.

You'll never read the names of those involved though. Officialdom doesn't want you to know who they are (and the legal implications of publicly exposing the culprits don't help either). Some, in fact, are really quite famous. One multiple major champion, by way of example, is a notorious cheat and the subject of any number of head-shaking locker room tales. Ryder Cup players are not immune either. At least one is tainted forever by his serial cheating. And there are others, many of whom have won events through the most dubious of methods.
It's hard to tell exactly how accurate his assessment is.  We all know of the rumors about Vijay Singh, and there's a scandal surrounding Elliot Saltman and some shady activities on the European Challenge Tour (the equivalent of the Nationwide here in the US).
With that much money on the line, pros will take every advantage they can get – whether it is the grooves on their wedge, or the putter on their belly. And with the money that's on the line, it's not terribly surprising to hear that there's quite a bit of rule bending going on.  We know that it's happening on the LPGA.
Maybe we all sort of assume that it's taking place and that's why we're so impressed when somebody does something like Brian Davis.
[Illustration from mensgolftips.com]
Derek @ 72strokes.com
At the 2010 British Open, Miguel Angel Jimenez pulls an incredible shot on the 17th at St. Andrews. Check this video as he uses the wall to his advantage as the ball finds the green. Incredible skills!
Rory Mcllroy probably has the best swing in golf today. Check out his (click here) slow motion look of his swing to know why.
Promo video for the European Tour with some amazing tricks (I'm still not sure how he catches that ball) but perhaps the most impressive one was hitting an approach off the back of the club to within 15 ft of the hole. (Click here if you don't see the player below).
There have been magicians on the pro tour for some time – check out this highlight of Seve Ballasteros putting magic at a 1984 exhibition match. (Click Here if you don't see the player below).
The chart below shows the cycles of greatness on the PGA tour since its inception in 1916 through 2004. The chart includes 57 players that have won at least 15 events on tour, as well as the most dominant players, whose rise and fall are graphed out over time. Click on the link to be taken to a page where you can zoom in and view the details of the chart (and can also buy a print, if you would like).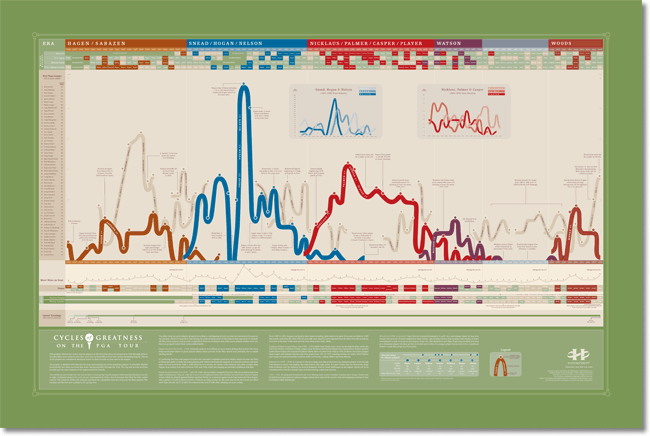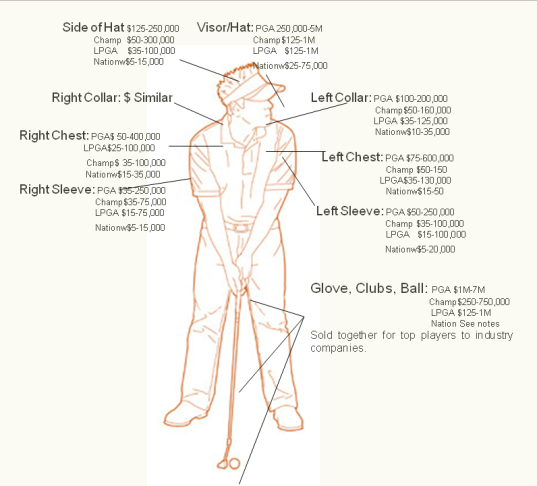 The answer is that it varies, but this info-graphic from CCA sheds a little bit of light on how lucrative professional golf endorsements can be. It seems interesting that Champions Tour players out-earn LPGA'ers. And of course they're all dwarfed by the money tree that is the PGA Tour.
Derek @ 72strokes.com
As part of the hoopla surrounding the US Open, Red Bull created a man made 106-yard golf hole in the middle of the Georgetown Waterfront.
They brought in Red Bull athlete Rickie Fowler to give it a go.  Fowler had to hit a blind shot from an elevated tee box, between buildings, over a fountain, and into an island green placed in another fountain.  It took him a few tries, but on his 3rd attempt, he dunked it.
Derek @ 72 strokes.com