Archive for the 'Inspiration' Category
Murray Irwin "Moe" Norman was a legend. He was arguably one of the best ball strikers ever.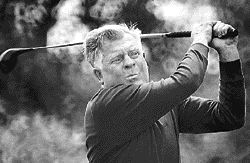 His accuracy and ability to hit shot after shot perfectly straight gave him the nickname "Pipeline Moe". But it is unfortunate that many don't even have heard of him, probably because of a short career. He turned professional in 1957 but played just 27 PGA tour before returning to play in Canada after a bitter experience with the officials. But nothing can take away the serious talent he possessed and we'll never know what he might have achieved if he had a longer career.
He won 55 Canadian Tour events, had 33 course records, and 17 hole-in-one's. Yes you read that right – 17 hole-in-one's! 59 is considered to be the magic score in golf – well, he did that too, not once but thrice!
In January 1995, Titleist decided to pay Moe $5,000 per month for nothing more than his unique contribution to the game of golf.  Moe passed away September 4, 2004 at the age of 74.
Watch this below video (or Click here) on Moe Norman. Truly inspirational!
Watch this below video (or click here) of Rory McIlroy having a perfect swing with his teeny weeny delicate hands. Truly amazing for a 3 year old!
Over its history, the game of golf has had its share of iconic moments – inspirational events that are remembered by all golfers. Below, in pictures, our Scratchpad team lists a few of these iconic moments. Which ones are we missing?
Read the rest of this entry »
At the 2010 British Open, Miguel Angel Jimenez pulls an incredible shot on the 17th at St. Andrews. Check this video as he uses the wall to his advantage as the ball finds the green. Incredible skills!
Promo video for the European Tour with some amazing tricks (I'm still not sure how he catches that ball) but perhaps the most impressive one was hitting an approach off the back of the club to within 15 ft of the hole. (Click here if you don't see the player below).
There have been magicians on the pro tour for some time – check out this highlight of Seve Ballasteros putting magic at a 1984 exhibition match. (Click Here if you don't see the player below).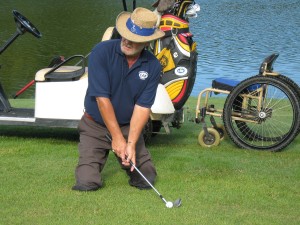 Mike Reeder, 63 years old, lost both of his legs in the Vietnam War. Instead of losing all hope after his accident which left him in a wheel chair, Reeder became an inspiration to golfers and non-golfers, alike. In 1988, eighteen years after his accident, Reeder found himself in a pro-shop and decided to pick up golfing. Since that day, Reeder has participated in amputee golf tournaments, both locally and nationally. He is an accomplished golfer, who has shot par, made a hole-in one, and has a golf handicap of less than ten.
Due to his one of a kind story, the Challenged Athletes Foundation (CAF), which provides disabled individuals with opportunities to get involved with sports, granted Reeder the honor of being featured on ESPN's E: 60. In July of this year, CAF funded Reeder's dream of playing at the Old Course at St. Andrews in Scotland, making him the first handicapped golfer to play where golf originated. Read the rest of this entry »
We're starting a new competition on the Scratch Pad – luckiest and best golf shots ever. We'll post two competing shots and you let us know which ones you think is best. Or if you think you have a better one, point us to it.
For this round, we have two competing shots – one from the PGA and one from the European tour; one in a tournament, and one in a practice round; both involving water.
First up, Darren Clarke on a long par 5:
Next up, Vijay Singh on a short par 3:
So, whom would you vote for?
As we prepare for the quest for another green jacket, we thought it would be fun to relive some of the greatest masters moments in history.
2010 – Mickelson's shot from the pine needles
With two pine trees, a creek, and over two hundred yards between him and the pin, Mickelson delivered a blistering iron off the pine needles through the trees to four feet. it was perhaps one of the gutsiest shots ever played – the birdied hole led to a 67 and his third green jacket.
2005 – Tiger's chip from the collar
Trailing Chris DiMarco, Woods knocked his tee shot over the green, where it came to rest against the collar of the first cut of rough. After taking stock of the situation, he hit a low spinning pitch, landing the ball 25 feet above the hole. The ball bit and then trickled down to the cup, hanging ever so briefly onto the lip before dropping in. The crowd erupted, and Tiger went on to win the green jacket in a playoff.
1987 – Larry Mize's chip in
At the end of 72 holes, Larry Mize and Greg Norman both led the pack in the 1987 Masters. On the second hole of a sudden-death playoff, Norman hit his approach shot to the edge of the green, while Mize sprayed his second some 150 feet right and long. Norman looked destined to win his first green jacket until Mize bounced his third shot onto the green and into the hole. With Norman unable to sink his birdie putt, Mize won his first and only major championship.
1987 – Nicklaus's Final Masters
At the 1987 Masters Nicklaus made a monumental back-nine charge, shooting a 30 that featured an eagle-birdie-birdie stretch on 15, 16, & 17. The round featured a number of clutch shots, but the tricky 12-footer he holed for birdie on 17 most resonates in people's memories. Nicklaus went on to par the 18th and carded a 65 – he then watched his competitors falter, giving him his 6th green jacket.
1935 – Gene Sarazen's Double Eagle
Unfortunately we don't have a video, but Gene Sarazen's historic hole-out for double eagle went a long way toward helping popularize the Masters (then called the Augusta National Invitational). Deciding between a 3-wood and 4-wood, he chose the latter and hit a towering shot that flew some 235 yards, cleared a greenside pond, and dropped into the hole. The deuce tied Sarazen for the lead with Craig Wood – he then went on to win the only 36-hole playoff in Masters history.