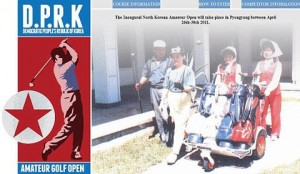 This April North Korea held it's first ever amateur golf tournament (for foreigners only). The organizers were swamped with applications from Korea, Japan, and the US. Over 200 golfers applied for 30 spots in the tournament.
The tournament was be held at the Pyongyang Golf Complex (18-hole par 72), the only course in the country open to North Koreans. British businessman Richard Shears was one of the players. He writes about his experience: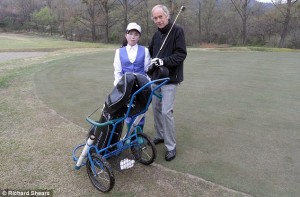 When the day came for the golf tournament, fortified by a breakfast of pickled cabbage and sauteed pork, we set out in groups for the first tee. There, we were amazed to find we'd been provided with a number of attractive young Korean women dressed in formal blue and white uniforms who would serve as our caddies.
The fairways were like light rough and extremely narrow. By the end of the day, I had been left way down the field – in spite of the attempts by my caddy, Miss Nim, to suggest in her very limited English what club I should use on each hole.
And as I missed each easy putt, she smiled sweetly and clapped politely.

The man behind the first ever golf tournament in North Korea doesn't even play golf. Dylan Harris runs Lupine Travel, a British company that specializes in arranging "unusual" vacations. If you want to go visit Chernobyl or North Korea, Lupine Travel can set it up. According to Harris: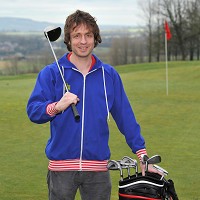 Some Scottish guy phoned me last summer and said he wanted to play golf in North Korea. He kept phoning back. He said he had played golf countries all over the world and North Korea was one of the only ones left. He said; 'can you just ask them?
I did call them and surprisingly they said yes. They asked me if golf was a popular sport and they started getting interested in it. Then they said, have you ever put on a golf competition before? It was really strange.
I know nothing about golf. I never thought I would be going over to North Korea to run a golf tournament. It's just bizarre really.
The 5-day all-inclusive trip to the tournament went for €999 and included train travel to and from China, tournament fees, golf club rental, and even lodging at a 5-star hotel – not that such a thing actually exists in North Korea.
The big question was whether anybody topped Kim Jong-il's world record 38-under par score at the course when it opened in 1991. It was, of course, Kim Jong-il's first round of golf ever.
The Chosunilbo (via Bigpeace and 72strokes)