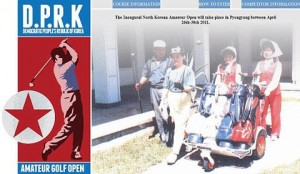 This April North Korea held it's first ever amateur golf tournament (for foreigners only). The organizers were swamped with applications from Korea, Japan, and the US. Over 200 golfers applied for 30 spots in the tournament.
The tournament was be held at the Pyongyang Golf Complex (18-hole par 72), the only course in the country open to North Koreans. British businessman Richard Shears was one of the players. He writes about his experience: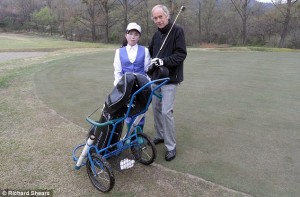 When the day came for the golf tournament, fortified by a breakfast of pickled cabbage and sauteed pork, we set out in groups for the first tee. There, we were amazed to find we'd been provided with a number of attractive young Korean women dressed in formal blue and white uniforms who would serve as our caddies.
The fairways were like light rough and extremely narrow. By the end of the day, I had been left way down the field – in spite of the attempts by my caddy, Miss Nim, to suggest in her very limited English what club I should use on each hole.
And as I missed each easy putt, she smiled sweetly and clapped politely.
Continue reading →