In honor of the HP Byron Nelson Championship, I thought I would post a quick primer on Byron Nelson, one of the greatest golfers to ever walk the fairways of the PGA Tour.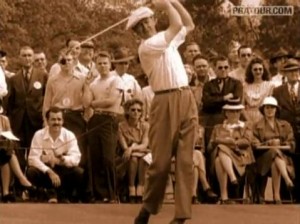 In 1945, Byron Nelson won 18 of 35 PGA Tour events (and finished 2nd seven times), including an 11 tournament win-streak. It's a record that's as unlikely to ever be matched or beaten as anything else in sports.
And while it receives less attention, Byron Nelson's streak of 113 "cuts made" is second only to Tiger's 145. The difference is that in Nelson's era only the top 20 in a tournament received a check, which the current record books define as a "cut made". So in reality, Nelson finished in the top 20 113 times in a row.
In his 15 year career, Nelson won 5 majors and 52 PGA Tour events. At the age of 34, Nelson retired from professional golf, having made enough money to buy a ranch and fulfill his dream of being a rancher (!!!???). He continued to be involved in professional golf, including his namesake event in Dallas until his death in 2006.
Unfortunately, his tournament has struggled since Nelson's passing, with many top players now skipping the event. It would be great to see the tournament re-energized with a new venue that could draw top talent to the tournament the way Nelson did.