Bring Handicaps to Your Members


Web Affiliates
Are you looking to make more money through your web site?
Are you looking to offer USGA handicaps to your members?
Do you want your own branded web site to track the members of your club, organization or tournament?
MyScorecard's affiliate programs create a win-win for you & your users, and are tailored to meet your needs.
Basic Affiliate Program
Place a customized link to MyScorecard on your Web Site.
Receive a 16% commission on registering users
($5.60 / 3-year membership purchase)
Manage & Track through our real-time dashboard
The more users that click & register, the more you earn.

Advanced Affiliate Programs
Co-branding / white labeling
APIs allow for seamless integration (e.g. single sign-on)
Retrieve information to display on your site
We work with you to ensure success
Minimum subscriber base required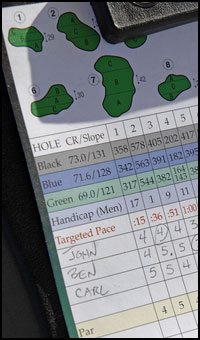 18 & 9-Hole Golf Courses
Do you want to drive more rounds on your course?
Would you like to cost-effectively offer USGA Handicaps?
Do you want to establish easy, ongoing communication with your players/members?
MyScorecard's Golf Course Partners Program creates a win for your golfers and revenue for you!
Golf Course Partners Program
Offer players USGA handicaps
Players can access all MyScorecard features
Enable ongoing Communication with all players
Data-based targeted marketing
We work with you to ensure success
Multiple branding options
By enabling ongoing contact with your players, offering them a handicap solution, and understanding where & when they play, you will be able to enhance your marketing and drive more rounds on your course.
MyScorecard's web site makes for easy registration/access to our membership, and has saved our Club significantly. Our instructors use the Reports/Analysis feature to help identify areas where members need improvement, making booking additional lessons easy & warranted. I would recommend MyScorecard to any golf club looking for an easy & efficient way to reduce the amount of expenses attached to managing their members' handicaps and improve member understanding of their golf game. - Golf Course Partner
©Copyright 1999-2023, Myscorecard LLC, All Rights Reserved