Posts Tagged 'pro golfers'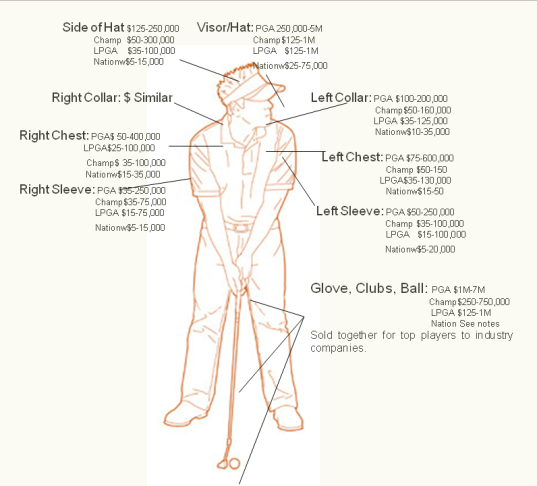 The answer is that it varies, but this info-graphic from CCA sheds a little bit of light on how lucrative professional golf endorsements can be. It seems interesting that Champions Tour players out-earn LPGA'ers. And of course they're all dwarfed by the money tree that is the PGA Tour.
Derek @ 72strokes.com
As part of the hoopla surrounding the US Open, Red Bull created a man made 106-yard golf hole in the middle of the Georgetown Waterfront.
They brought in Red Bull athlete Rickie Fowler to give it a go.  Fowler had to hit a blind shot from an elevated tee box, between buildings, over a fountain, and into an island green placed in another fountain.  It took him a few tries, but on his 3rd attempt, he dunked it.
Derek @ 72 strokes.com
The below chart, appearing in a recent GolfWorld article, looks at the number of "long bombs" by professional golfers vs. their height. One conclusion that can be drawn is the lack of correlation between height and number of super-long drives. The other is that Bubba Watson really stands out from the pack, with 50% more 350+ yard drives than his nearest competitor.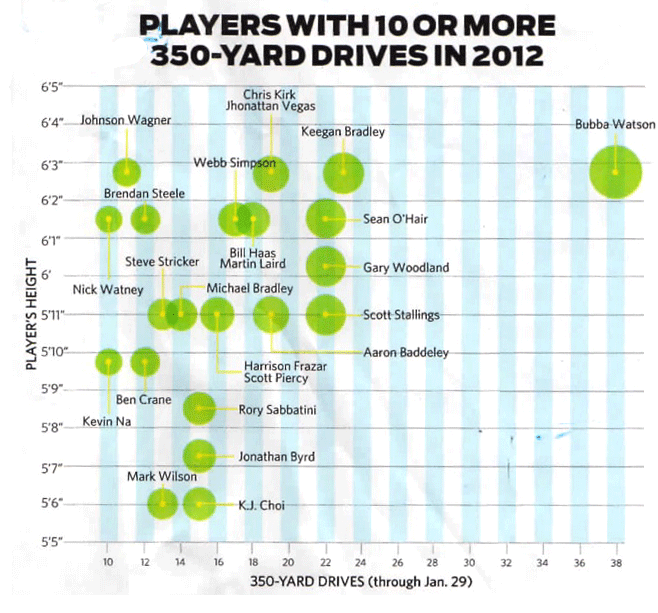 In honor of the HP Byron Nelson Championship, I thought I would post a quick primer on Byron Nelson, one of the greatest golfers to ever walk the fairways of the PGA Tour.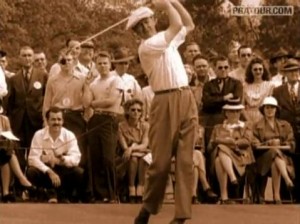 In 1945, Byron Nelson won 18 of 35 PGA Tour events (and finished 2nd seven times), including an 11 tournament win-streak. It's a record that's as unlikely to ever be matched or beaten as anything else in sports.
And while it receives less attention, Byron Nelson's streak of 113 "cuts made" is second only to Tiger's 145. The difference is that in Nelson's era only the top 20 in a tournament received a check, which the current record books define as a "cut made". So in reality, Nelson finished in the top 20 113 times in a row. Read the rest of this entry »
There is a lost art form within the game of golf. An art that produces an experience because of golf's rare mix of mental, social, and physical skills required — traditionally, this is called an exhibition match.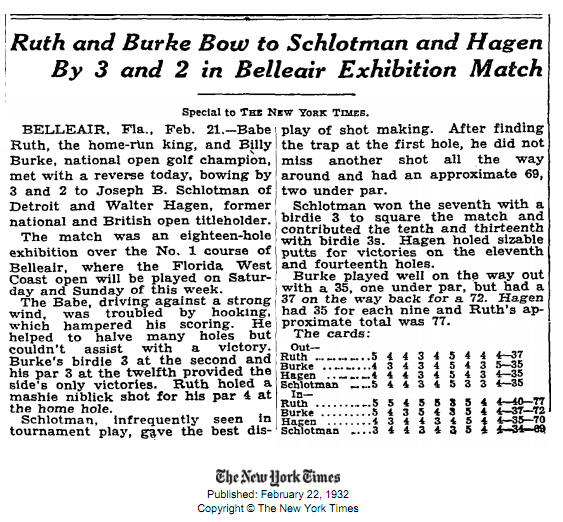 A Very Brief History
Before there was a professional golf tour, many of the game's greatest players earned money by competing in exhibition matches against each other. There was no better 'exhibitor' than Walter Hagen. A man with a larger than life personality and a grandiose lifestyle to match it. To draw the widest audience as possible, celebrities of that time would also join in on the competition. Read the rest of this entry »
We're starting a new competition on the Scratch Pad – luckiest and best golf shots ever. We'll post two competing shots and you let us know which ones you think is best. Or if you think you have a better one, point us to it.
For this round, we have two competing shots – one from the PGA and one from the European tour; one in a tournament, and one in a practice round; both involving water.
First up, Darren Clarke on a long par 5:
Next up, Vijay Singh on a short par 3:
So, whom would you vote for?
Following up on our Every Shot Imaginable post, the European Tour has come out with a new promo video, this time defending Scotland against imaginary pirates.
Every play "hit the target" on the golf range? Well, it's a bit like that, except you are aiming for the 3 foot mouth of a barrel, bobbing in a dinghy 150+ yards out to sea in high winds.
These guys are good.

The short answer: There is none.
For handicap purposes, the USGA imposes stroke limits (called Equitable Stroke Control, or ESC) to prevent golfers from sandbagging one hole to keep their handicaps high. Thus, when you enter a score into MyScorecard, we ask you to adjust that score for any holes where your strokes exceed that limit.
However, when you're on the course, there is no "maximum" to take. Even a professional golfer can run up scores into the double digits. And just to prove a point, back in April of this year, Tour Player Kevin Na posted a 16 on the par 4 ninth hole at the Valero Texas Open.
In competition with the PGA – the European Tour has taken to some imaginative self promotion.
In a reminder of a scene from tin cup, the every shot imaginable campaign has set up leading European tour winners in friendly competition to see who can pull off incredible shots.
Here's a look at their first challenge – skeet shooting with a 7-iron: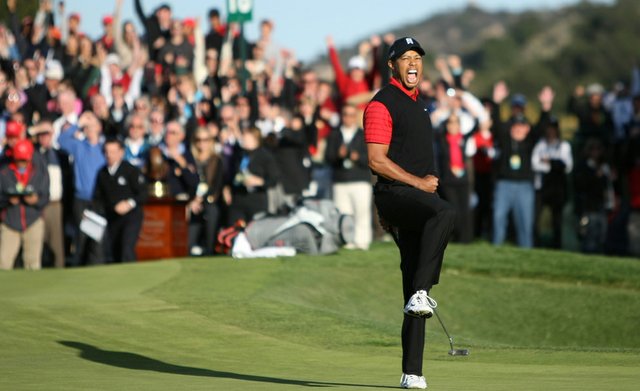 It seems like everyone is talking about Tiger Woods' recent win at the Chevron World Challenge last Sunday and what it will mean for his career in the long run. Some people are calling this a "resurrection" of the old Tiger, banking on this one win to turn everything around for him after a disappointing two year streak which began shortly after the turmoil in his personal life.
The big names in golf are even talking about what Tiger's return will mean for the game. Controversy erupted when No. 1 Luke Donald said that Woods was the best golfer he has every played against, but No. 2 Rory McIlory is the most naturally talented. A day later, Donald clarified his comment and tweeted that he meant no "disrespect" to Woods. Other golfers have welcomed Tiger's comeback as a chance to face off with the golf champ, including McIlory. Read the rest of this entry »