Posts Tagged 'pro golfers'
There is a lost art form within the game of golf. An art that produces an experience because of golf's rare mix of mental, social, and physical skills required — traditionally, this is called an exhibition match.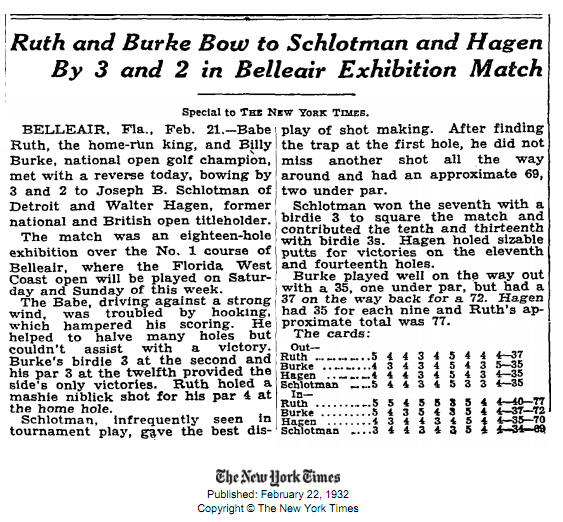 A Very Brief History
Before there was a professional golf tour, many of the game's greatest players earned money by competing in exhibition matches against each other. There was no better 'exhibitor' than Walter Hagen. A man with a larger than life personality and a grandiose lifestyle to match it. To draw the widest audience as possible, celebrities of that time would also join in on the competition. Read the rest of this entry »
We're starting a new competition on the Scratch Pad – luckiest and best golf shots ever. We'll post two competing shots and you let us know which ones you think is best. Or if you think you have a better one, point us to it.
For this round, we have two competing shots – one from the PGA and one from the European tour; one in a tournament, and one in a practice round; both involving water.
First up, Darren Clarke on a long par 5:
Next up, Vijay Singh on a short par 3:
So, whom would you vote for?
Following up on our Every Shot Imaginable post, the European Tour has come out with a new promo video, this time defending Scotland against imaginary pirates.
Every play "hit the target" on the golf range? Well, it's a bit like that, except you are aiming for the 3 foot mouth of a barrel, bobbing in a dinghy 150+ yards out to sea in high winds.
These guys are good.

The short answer: There is none.
For handicap purposes, the USGA imposes stroke limits (called Equitable Stroke Control, or ESC) to prevent golfers from sandbagging one hole to keep their handicaps high. Thus, when you enter a score into MyScorecard, we ask you to adjust that score for any holes where your strokes exceed that limit.
However, when you're on the course, there is no "maximum" to take. Even a professional golfer can run up scores into the double digits. And just to prove a point, back in April of this year, Tour Player Kevin Na posted a 16 on the par 4 ninth hole at the Valero Texas Open.
In competition with the PGA – the European Tour has taken to some imaginative self promotion.
In a reminder of a scene from tin cup, the every shot imaginable campaign has set up leading European tour winners in friendly competition to see who can pull off incredible shots.
Here's a look at their first challenge – skeet shooting with a 7-iron: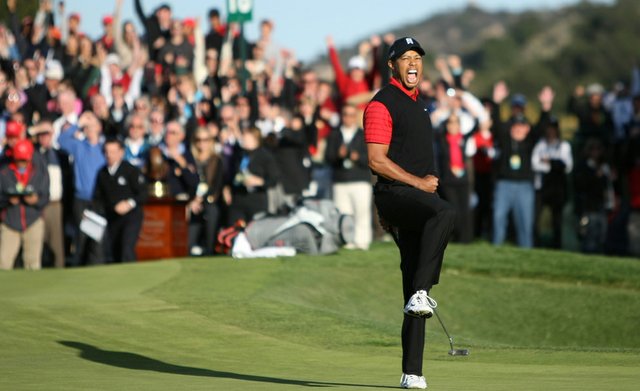 It seems like everyone is talking about Tiger Woods' recent win at the Chevron World Challenge last Sunday and what it will mean for his career in the long run. Some people are calling this a "resurrection" of the old Tiger, banking on this one win to turn everything around for him after a disappointing two year streak which began shortly after the turmoil in his personal life.
The big names in golf are even talking about what Tiger's return will mean for the game. Controversy erupted when No. 1 Luke Donald said that Woods was the best golfer he has every played against, but No. 2 Rory McIlory is the most naturally talented. A day later, Donald clarified his comment and tweeted that he meant no "disrespect" to Woods. Other golfers have welcomed Tiger's comeback as a chance to face off with the golf champ, including McIlory. Read the rest of this entry »
The winnerof six majors and ranked Number 1 in the world for 98 weeks, Sir Nick Faldo was once considered the best the world. In particular, his swing was admired for its consistency under pressure and his ability to deliver "precision strikes".
How did he get such a precision swing? It was actually built by David Ledbetter over a period of several years, by dissecting each part and then building it up again. Once the pieces were set, they were put together in a full rhythm once again.
When Faldo discusses the keys to his swing, like Hogan he focuses on his right knee – however unlike Hogan he keeps the knee back for a split second before bringing it through the swing. That difference may be more style than substance. As described in Concept Golf, one of our favorite explanations of the golf swing, weight transfer and the lower body (in particular the right knee) will always play a key role in a good golf swing.
Angela Park is not a household name, but she has a beautiful swing.
Hailing from Brazil, Angela Park is in her fourth year on the LPGA tour. Has she ever won a tournament? Nope. Is she a household name? Nope. But does she have a beautiful swing? Yes indeed..
Spend a few minutes watching the video below, and you can't help but be infected by the simplicity, the great rhythm and the superb form.
Now go out on the range and hit some balls. And be amazed and what a little tempo and relaxed form will do for you.
This from our friends over at 72strokes, where they covered a great story on Casey Martin and his 4-year legal battle with the PGA Tour that ended in 2001. Martin was a three-time all Pac-10 and was a member of Stanford University's NCAA Championship team in 1994. He suffers from a rare and painful leg disability, fought the PGA Tour for the right to use a golf cart in competition. He ultimately took his case all the way to the Supreme Court where he emerged victorious.
Riding in a cart didn't turn out to be the advantage than many though it would be:
Maybe on a 120-degree day or on a really hilly course it helped to ride," Martin said. "But I certainly wish I could've walked. The rhythm of the game at a competitive level is a walking rhythm, not a riding rhythm."
After struggling to remain competitive on the golf course, Martin retired from professional golf five years ago. He's now the head coach for the University of Oregon's golf team, which he's turned into a national powerhouse.
Overall, Casey Martin's PGA story wasn't filled with big wins – He played a year on the PGA Tour, but mostly knocked around golf's minor league. His accomplishments were not big, but they were meaningful.
"In the end it worked out great," Martin said. "I got a chance to legitimately pursue my career. It made a massive impact on my life for the better."
Martin's fight has served as inspiration for other athletes to pursue their dreams, and a lesson that a disability doesn't have to come with preset limits.